The Secret History of Biological Warfare

Professor Brian Balmer, Department of Science and Technology Studies, University College London/span>

Wheelchair accessible.
Event details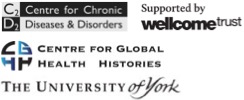 The use of disease as a weapon of war can be traced back to antiquity, but it was only in the twentieth century that nations invested huge effort and money into secret, organised research programmes to develop biological weapons. This talk will explore this hidden history and how our understanding of the past might inform current debate about controlling these weapons.
Speaker biography
Brian Balmer is Professor of Science Policy Studies in the Department of Science and Technology Studies, University College London. His work combines historical and sociological approaches to understanding the relationship between science and politics. He is author of Britain and Biological Warfare: Expert Advice and Science Policy, 1935-65 and Secrecy and Science: A Historical Sociology of Biological and Chemical Warfare.
Additional links
Follow Centre for Chronic Diseases and Disorders and Centre for Global Health Histories on Twitter.