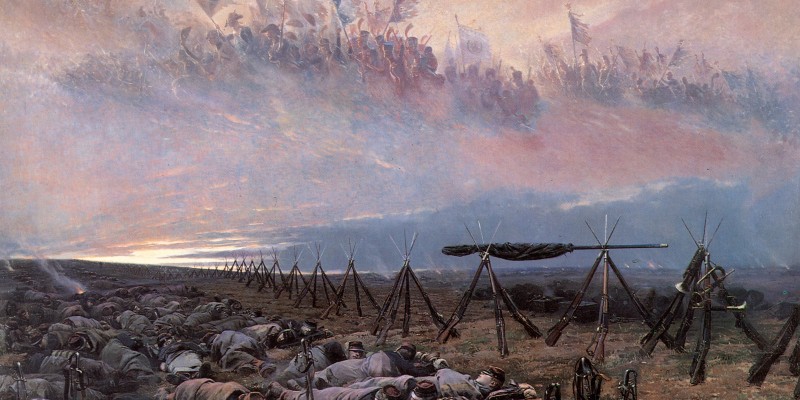 150 Years of War and Peace Geoffrey Cubitt, Jasper Heinzen, Mareike König and Karine Varley
Panel discussion
Date and time:

Friday 18 June 2021, 6pm to 7.30pm

Location:

Online

Admission:

Free admission, booking required
Event details
The Franco-Prussian War (1870-71) is traditionally seen as an important catalyst of Franco-German hostility and a milestone on the path to total war in Europe.
Join our expert panel of historians – Geoffrey Cubitt and Jasper Heinzen of the University of York, Mareike König of the German Historical Institute, Paris, and Karine Varley of the University of Strathclyde - as they provide a fresh perspective on the war to mark its 150th anniversary.
Learn about encounters between soldiers, civilians, prisoners of war, diplomats, war correspondents and humanitarians, as well socio-cultural entanglements that carried on after the end of the war.
This event is hosted live on Zoom Webinar. You'll receive a link to join a couple of days before the event takes place and a reminder an hour before. During the event, you can ask questions via a Q&A function but audience cameras and microphones will remain muted throughout.
Image credit: Wikimedia Commons/Édouard Detaille, Le Rêve
About the speakers
Dr Geoffrey Cubitt is a Reader in the Department of History, and a member of the Centre for Eighteenth-Century Studies and the Institute for the Public Understanding of the Past at the University of York. His research interests lie partly in the political, intellectual, religious and cultural history of 19th-century France, and partly in issues of social memory and in the political, social and cultural aspects of relationships to the past in modern societies more generally.
Dr Jasper Heinzen is a Senior Lecturer in Modern History at the University of York. He specialises in the history of modern European nationalism, the Napoleonic Wars and prisoners of war. He is the author of Making Prussians, Raising Germans, a monograph that investigates the impact of civil war on German nation-building in the Kaiserreich.
Dr Mareike König is Head of Digital Humanities and Deputy Director of the German Historical Institute, Paris. Her research interests include German and French relations between 1871 to 1918, digital history and science communication and publication on Web 2.0.
Dr Karine Varley is a Lecturer in French at the University of Strathclyde, Glasgow. She has published on the memory of the Franco-Prussian War in France (In the Shadow of Defeat) and is the author of the forthcoming study Vichy's Double Bind: French Axis Entanglements and Relations with Fascist Italy, 1940-1943.
Partners