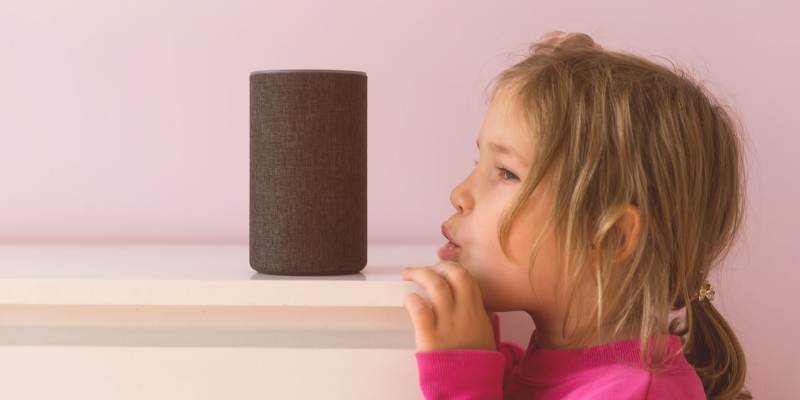 Developing AI Voice Technologies for Children Jenn Chubb and Sondess Missaoui
Talk
This event has now finished.
Date and time:

Thursday 10 June 2021, 12pm to 1pm

Location:

Online only

Admission:

Free admission, booking required
Event details
Conversational AI (CAI) systems and Intelligent Personal Assistants such as Alexa, Google Home and Siri are becoming ubiquitous in our lives. Automatic Speech Recognition, Natural Language Processing, and Deep Learning Models have all seen rapid innovation.
One area that is receiving increasing attention is the implications of CAI for children, especially in relation to their cognitive, social and linguistic development. Though such technologies are increasingly popular across the generations, they remain relatively opaque to the user, little is known about how to safely and responsibly design CAI for children and tackling the implications of these technologies is increasingly pressing.
Join Jenn Chubb and Sondess Missaoui from Digital Creativity Labs to hear about technical and ethical considerations when developing voice technologies for children, and recommendations for their adoption in the real-world.
This is a YouTube Premiere event. You'll be sent a link to the screening a couple of days before it takes place, as well as a reminder an hour before. You can ask the speakers your questions live in the YouTube chat throughout the stream.
About the speakers
Dr Jenn Chubb is a Postdoctoral Researcher with Digital Creativity Labs at the University of York where her research focuses on the ethics and impact of science and technology. She is currently working on a qualitative project investigating the societal implications of AI over the coming decades and examining the views of scientists, thought leaders and industry about the future implications of AI for humanity. Jenn has a background and interests in moral philosophy, ethics and science/ research policy.
Dr Sondess Missaoui is a Research Associate in Artificial Intelligence with Digital Creativity Labs at the University of York. Her research interests include Information Retrieval and Information Filtering, Natural Language Processing, Deep learning, News Verification & User-centred Artificial Intelligence. Sondess is currently working on a Google News Initiative-funded project - DMINR, where the main focus is in combating mis/disinformation by designing a novel Human-centred AI tool for news verification. Her role is in exploring information retrieval and deep learning technologies to extract, merge, and monitor data.
Digital Creativity Labs
Digital Creativity Labs is a world centre of excellence for impact driven research in games, interactive media and the rich space where they converge. Working with partner organisations from industry, government and the third sector, DC Labs brings together research expertise from across the creative and scientific disciplines to provide new perspectives, technologies and solutions.
Partners