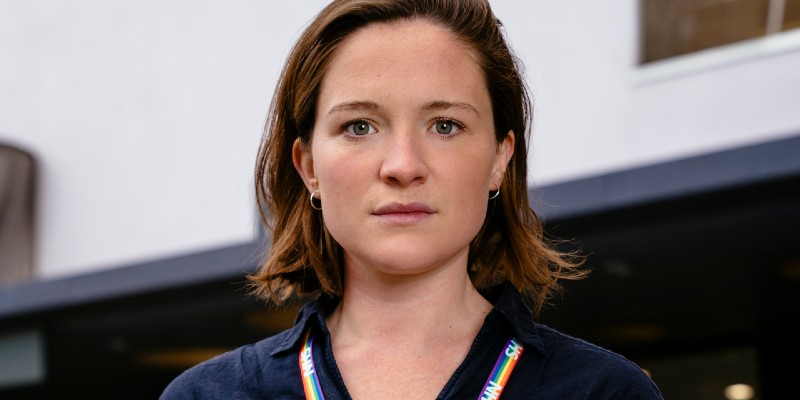 Any Other Business Adam Robinson, Chloe Christian and Anna Einarsdóttir
Film
Panel discussion
This event has now finished.
Date and time:

Tuesday 8 June 2021, 10.30am to 12pm

Location:

Online only

Admission:

Free admission, booking required
Event details
How do we find a space to talk about what's really important at work?
Any Other Business by Adam Robinson tells the story of Natasha, a lesbian cisgender media officer at a health trust and the LGBT+ employee network Voice. As the incoming chair of Voice, Natasha faces fundamental questions about the purpose of the network, issues around inclusion, and where the network is heading.
The film, which features actor Olivia Dowd playing the entire repertoire of characters, highlights the monotony and boredom associated with workplace meetings. Why is it that meetings focus on the mundane, hardly ever reaching the truly important issues consigned to 'any other business'?
Our Festival event includes a special screening of Any Other Business, followed by a Q&A panel discussion with the script writer Adam Robinson, the play's director Chloe Christian and Anna Einarsdóttir of the University of York. Join them as they explore issues including inclusion, voice, visibility and communication.
Any Other Business, which was produced by LittleMighty, was inspired by research led by Anna into LGBT+ employee networks operating within the NHS. This event provides an opportunity to discover how this innovative approach to delivering research findings is breaking down traditional boundaries between science and the humanities.
This event is hosted live on Zoom Webinar. You'll receive a link to join a couple of days before the event takes place and a reminder an hour before. During the event, you can ask questions via a Q&A function but audience cameras and microphones will remain muted throughout.
Image credit: Actor Olivia Dowd. Photo by Helen Murray
About the speakers
Chloe Christian is a queer multidisciplinary director - working in theatre, film, opera and live art. Her work has been performed at Theatre Deli (Sheffield & London), Finborough Theatre, Zoo & Spotlights for Ed Fringe, VAULT Festival, New Diorama and Cervantes Theatre. She has worked with and been supported by numerous organisations, including Leeds Playhouse, The North Wall, Sheffield Theatres, The Lawrence Batley Theatre, The University of Sheffield and Third Angel. In 2016 she co-founded Kalon Theatre (New Diorama Emerging Company 2017/2018) which combined theatre and poetry. Since 2018 she has been a Staff Director for English National Opera (ENO) at the London Coliseum, where in 2020 she was due to direct her first Opera (Blond Eckbert). During the Covid-19 pandemic she worked as an NHS Operations Manager.
Dr Anna Einarsdóttir is a Senior Lecturer in Work, Management and Organising at the York Management School, University of York. Anna's area of expertise concerns discriminatory practices at work and promotion of inclusive organisational environments. She has recently completed a major ESRC funded study into LGBT+ employee networks in the NHS where she worked with NHS Employers, Stonewall and Employers Network on Equality and Inclusion with the view to creating and sustaining inclusive work environments for lesbian, gay, bisexual and transgender individuals. Anna currently chairs an EU COST Action into LGBTI+ Social and Economic (in)equalities.
Adam Z. Robinson is a writer and theatre-maker. His most recent play, Upon the Stair ("Everyone needs to see this show" - Reviews Hub), premiered in January 2020 and went on to a week-long run at Harrogate Theatre. Adam co-wrote Smile Club with Andrea Heaton (★★★★ - The Guardian). The play was produced by the Red Ladder Theatre Company and premiered at the Leeds Playhouse in March 2020. An audio series based on the play will be released later in 2021. Adam's plays The Book of Darkness & Light and Shivers toured extensively from 2017-19. His adaptation of A Christmas Carol embarked on its first national tour in December 2019 and sold out at venues up and down the country. Adam has been leading creative writing workshops for both adults and young people since 2010.
Partners