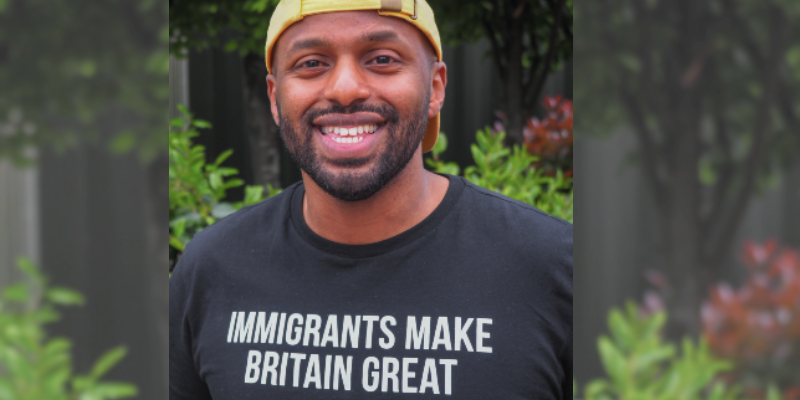 The Art of Disruption: A manifesto for change Magid Magid
Talk
Date and time:

Friday 11 June 2021, 8pm to 9pm

Location:

Online

Admission:

Free admission, booking required
Event details
Join us for a guide to being courageous and community-minded, and to disrupting and dismantling age-old power structures in work, life and politics, presented by someone who has done exactly that.
Magid Magid is a Somali-born black Muslim refugee who became the youngest ever Lord Mayor of Sheffield and one of the last UK MEPs. He has made headlines nationally and internationally for his creative ways of campaigning while not conforming to tradition and being unapologetically himself.

Magid, author of The Art of Disruption, will explain how the poster he dreamed up for a local music festival in 2018 went viral. The poster contained the 10 commandments he tries to live by and came to represent a movement that has swept him to the heart of local and European establishment politics. Discover the stories behind each of these 'commandments'; what drives him, the obstacles he overcame and what makes him hopeful.
This event is hosted live on Zoom Webinar. You'll receive a link to join a couple of days before the event takes place and a reminder an hour before. During the event, you can ask questions via a Q&A function but audience cameras and microphones will remain muted throughout.
Book sales
You can buy copies of many of our speakers' books from Fox Lane Books, a local independent bookseller and Festival partner. In some cases, author signed bookplates are available too.
About the speaker
Magid Magid is a Somali-British justice activist, author and a former elected politician. He was a Green Party MEP representing Yorkshire & the Humber at the European Parliament and was previously the youngest ever Lord Mayor of his beloved city, Sheffield. He has campaigned on climate change, support for migrants and refugees, set up the first UK suicide prevention charter and even banned Donald Trump from Sheffield. Magid was recently named one of TIME's 100 rising stars shaping the future of the world.
Partners