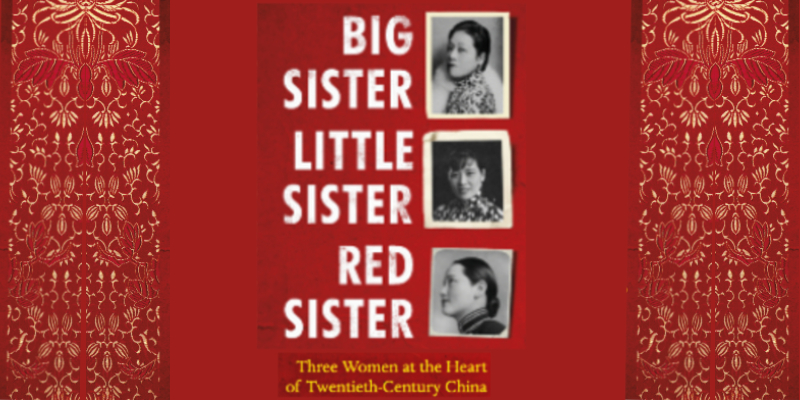 Big Sister, Little Sister, Red Sister Jung Chang
Talk
This event has now finished.
Date and time:

Saturday 19 June 2021, 7.30pm to 8.30pm

Location:

Online

Admission:

Free admission, booking required
Event details
They were the most famous sisters in China. As the country battled through a hundred years of wars, revolutions and seismic transformations, the three Soong sisters from Shanghai were at the centre of power, and each of them left an indelible mark on history.
Red Sister, Ching-ling, married the 'Father of China', Sun Yat-sen, and rose to be Mao's vice-chair.
Little Sister, May-ling, became Madame Chiang Kai-shek, first lady of pre-Communist Nationalist China and a major political figure in her own right.
Big Sister, Ei-ling, became Chiang's unofficial main adviser – and made herself one of China's richest women.
Based on her book Big Sister, Little Sister, Red Sister, Jung Chang, the best-selling author of Wild Swans, reveals the lives of three extraordinary women who helped shape 20th-century China.
All three sisters enjoyed tremendous privilege and glory, but also endured constant mortal danger. They showed great courage and experienced passionate love, as well as despair and heartbreak. They remained close emotionally, even when they embraced opposing political camps and Ching-ling dedicated herself to destroying her two sisters' worlds.
This event is hosted live on Zoom Webinar. You'll receive a link to join a couple of days before the event takes place and a reminder an hour before. During the event, you can ask questions via a Q&A function but audience cameras and microphones will remain muted throughout.
Book sales
You can buy copies of many of our speakers' books from Fox Lane Books, a local independent bookseller and Festival partner. In some cases, author signed bookplates are available too.
About the speaker
Jung Chang is the best-selling author of Wild Swans (1991, which the Asian Wall Street Journal called the most read book about China), and Mao: The Unknown Story (2005, with Jon Halliday), which was described by Time Magazine as 'an atom bomb of a book'. Her books have been translated into more than 40 languages and more than 15 million copies have been outside mainland China where they are both banned. She was born in China in 1952, and came to Britain in 1978. She obtained a PhD in Linguistics in 1982 at the University of York - the first person from Communist China to receive a doctorate from a British university.
Partners