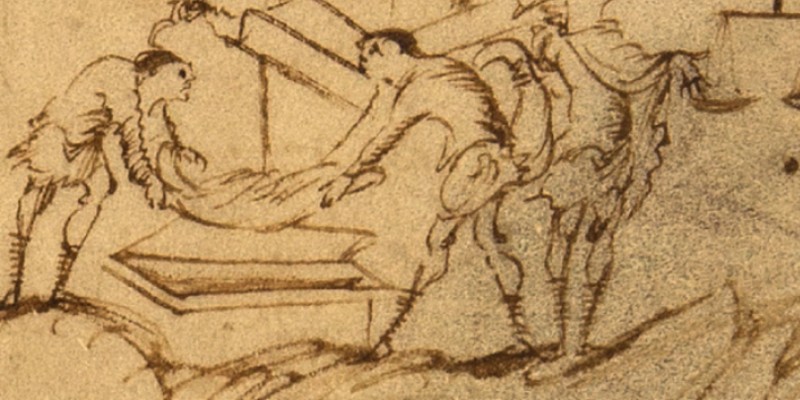 The Death of Walahfrid: Telling history through game Robert Pecksmith and Lauren Stokeld
Talk
This event has now finished.
Date and time:

Saturday 12 June 2021, 5pm to 6pm

Location:

Online only

Admission:

Free admission, booking required
Event details
Is it possible to tell history through game? How can we make historical narratives both exciting and accurate? What contribution can games make to public history?
Join Robert Pecksmith and Lauren Stokeld, the creators of an historical mystery prototype game, The Death of Walahfrid, and explore how we can make the past playable.
To get the most out of this live event, we'd recommend you try out the prototype of The Death of Walahfrid for yourself. Riddle the clues and shed light on the murky intertwining of politics, theology, and a suspected murder in ninth-century Europe.
During the talk and Q&A, there will be plenty of opportunities to give Robert and Lauren your feedback on your game experience. Your views will be used to help shape the final version of the game released to the public.
You can find a link to The Death of Walahfrid throughout the Festival here. You are very welcome to play the game and give your feedback even if you are unable to attend the live talk.
This talk will not be available on YouTube afterwards, so be sure to book a ticket to our live event to avoid missing out.
This event is hosted live on Zoom Webinar. You'll receive a link to join a couple of days before the event takes place and a reminder an hour before. During the event, you can ask questions via a Q&A function but audience cameras and microphones will remain muted throughout.
Image credit: Utrecht Psalter
About the speakers
Dr Robert Pecksmith is a HRC Postdoctoral Fellow in History at the University of York, where he researches early medieval rulership and literature.
Dr Lauren Stokeld is a historical linguist with a particular interest in Old English, and is currently an Associate Researcher at the Centre for Medieval Studies at the University of York.
Partners