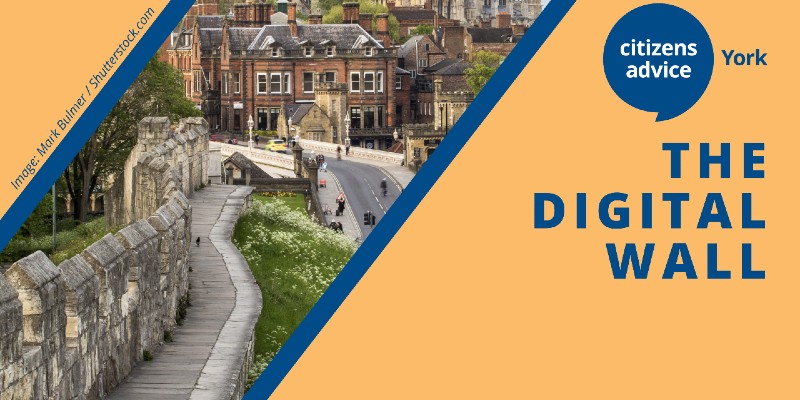 The Digital Wall Fiona Derbyshire, Panos Spanakis and Fiona Williams
Panel discussion
This event has now finished.
Date and time:

Thursday 10 June 2021, 7pm to 8pm

Location:

Online only

Admission:

Free admission, booking required
Event details
Digital exclusion is not new – but with a nation now reliant on technology for social interaction it is an increasing concern.
Disparities in income, age and whether a person has disabilities all affect whether they own or are able to use a computer to access online services. And yet, just when problems these groups already face – debt, employment and housing issues to name but a few – began to worsen during the pandemic, charities had to suspend their face-to-face services. As organisations have moved to using webchat, email and phone contact to support people, many have struggled to access essential services.
Using its recent research as a springboard for discussion, Citizens Advice York hosts an online panel exploring the impact of digital exclusion in the city and how it should be tackled.
A panel of speakers will discuss their own experiences and research during the COVID-19 pandemic. Speakers include Fiona Derbyshire, CEO of Citizens Advice York; Panos Spanakis, a Research Associate at the University of York specialising in digital inclusion of mental health service users; and Fiona Williams, CEO of Explore York Libraries and Archives.
A Q&A will follow with questions sourced from members of the community, as well as from the audience on the day.
This event is hosted live on Zoom Webinar. You'll receive a link to join a couple of days before the event takes place and a reminder an hour before. During the event, you can ask questions via a Q&A function but audience cameras and microphones will remain muted throughout.
Citizens Advice York
Citizens Advice York is a local charity affiliated with the national organisation Citizens Advice. It offers free, confidential and impartial advice on a wide range of issues including benefits and tax credits, debt, housing, employment, and much more.
Partners