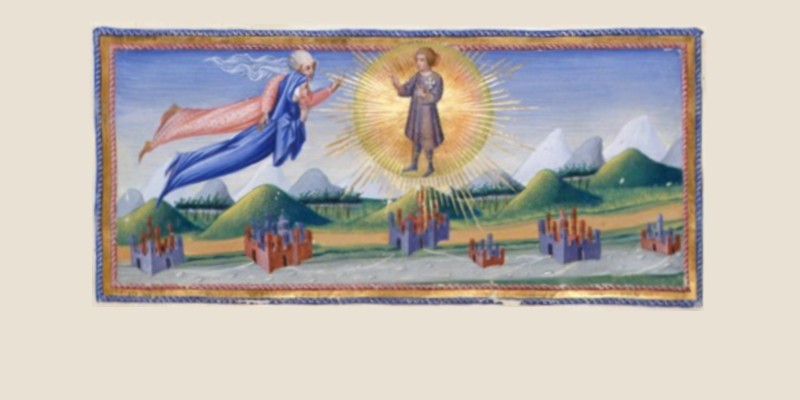 The Future of the Past: Digitalised manuscripts Elena Kashina
Talk
Date and time:

Thursday 17 June 2021, 6pm to 7pm

Location:

Online

Admission:

Free admission, booking required
Event details
Discover how the Polonsky Foundation, which provides support for digitising ancient texts deposited in the world's most eminent libraries, seeks to 'democratise access to manuscripts and scholarship generally', in the words of its founder.
The Polonsky Foundation, a UK-registered grant-making charity, is dedicated to sharing intellectual resources on a global scale through, in particular, helping to digitise millions of pages from ancient texts to make them freely available online to researchers and the general public. The scheme has been producing illustrious results in collaboration with the British Library, Bibliothèque National de France, the Bodleian Library, Cambridge, Biblioteca Apostolica Vaticana, among others.
Join art historian Elena Kashina of the Centre for Lifelong Learning at the University of York for a discussion of the project and its significance – for teaching, research and posterity. Elena's talk is illustrated by short videos produced by the participating libraries showcasing the richness of their collections, the beauty and historic value of the manuscripts, and the dramatic increase in accessibility and dissemination of the treasure achieved as a result.
This is a YouTube Premiere event. You'll be sent a link to the screening a couple of days before it takes place, as well as a reminder an hour before. You can ask the speakers your questions live in the YouTube chat throughout the stream.
Image credit: Dante flying over the Florentine towns with Beatrice (Tuscany, c.1450): Yates Thompson MS 36, f. 157r, Illustrated Catalogue of the British Library
About the speaker
Dr Elena Kashina is a Lecturer with the Centre for Lifelong Learning at the University of York. She studied for her MPhil in Medieval Viking and Scandinavian Studies at the University of Oslo, following an award of a scholarship by the Research Council of Norway, and gained her PhD in the History of Art at Leeds University in 2008. Her research interests link Russia's medieval artistic and philosophical paradigms with those that became prevalent in the second part of the 19th to early 20th century. A special field of inquiry is Norwegian art production in the 19th to mid-20th centuries, and the process of reconstructing a national identity in Norway in the same period.
Partners