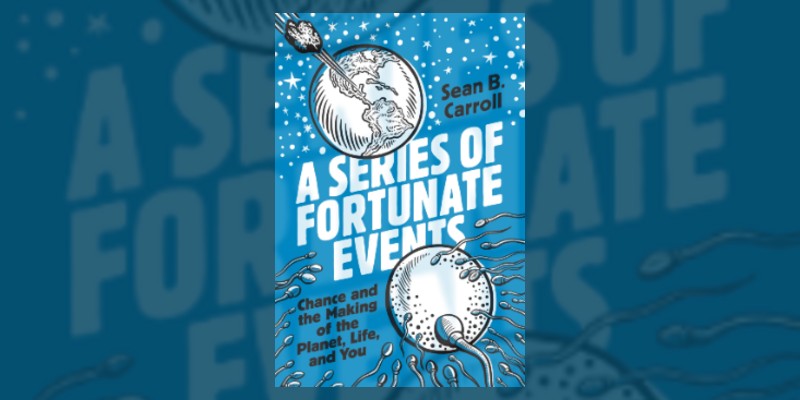 A Series of Fortunate Events Sean B. Carroll
Talk
This event has now finished.
Date and time:

Thursday 17 June 2021, 8pm to 9pm

Location:

Online

Admission:

Free admission, booking required
Event details
Why is the world the way it is? How did we get here? Does everything happen for a reason or are some things left to chance?
Philosophers and theologians have pondered these questions for millennia, but startling scientific discoveries over the past half century are revealing that we live in a world driven by chance. Biologist Sean B. Carroll, author of A Series of Fortunate Events: Chance and the Making of the Planet, Life and You, presents the story of the awesome power of chance and how it is the surprising source of all the beauty and diversity in the living world.

Like every other species, we humans are here by accident. But it is shocking just how many things - any of which might never have occurred - had to happen in certain ways for any of us to exist. From an extremely improbable asteroid impact, to the wild gyrations of the Ice Age, to invisible accidents in our parents' gonads, we are all here through an astonishing series of fortunate events. And chance continues to reign every day over the razor-thin line between our life and death.
Join Sean for an entertaining and thought-provoking account of one of the most important but least appreciated facts of life.
This event is hosted live on Zoom Webinar. You'll receive a link to join a couple of days before the event takes place and a reminder an hour before. During the event, you can ask questions via a Q&A function but audience cameras and microphones will remain muted throughout.
Book sales
You can buy copies of many of our speakers' books from Fox Lane Books, a local independent bookseller and Festival partner. In some cases, author signed bookplates are available too.
About the speaker
Sean B. Carroll is an award-winning scientist, writer, educator, and film producer. He is Vice President for Science Education at the Howard Hughes Medical Institute and the Balo-Simon Chair of Biology at the University of Maryland, USA. His books include The Serengeti Rules, Brave Genius, and Remarkable Creatures, which was a finalist for the National Book Award. Twitter @SeanBiolCarroll
Partners