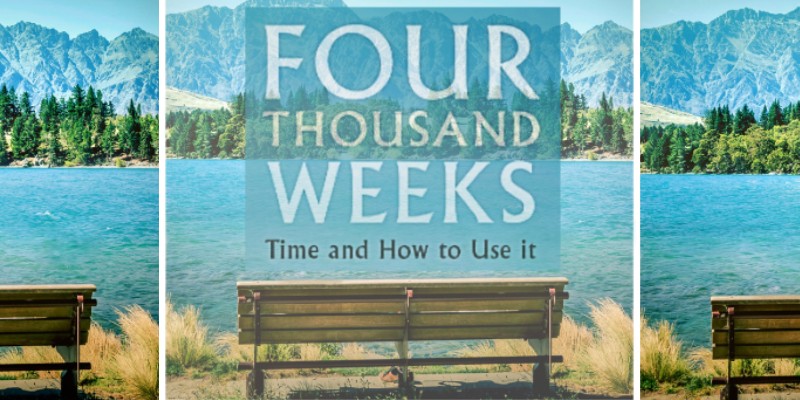 Four Thousand Weeks: Time management for mortals Oliver Burkeman
Talk
Date and time:

Thursday 10 June 2021, 6pm to 7pm

Location:

Online

Admission:

Free admission, booking required
Event details
The average human lifespan is absurdly, insultingly brief. Assuming you live to be 80, you have just over 4,000 weeks.

Nobody needs telling there isn't enough time. We're obsessed with our lengthening to-do lists, our overfilled inboxes, work-life balance, and the ceaseless struggle against distraction; and we're deluged with advice on becoming more productive and efficient, and "life hacks" to optimise our days. But such techniques often end up making things worse.
Drawing on the insights of both ancient and contemporary philosophers, psychologists, and spiritual teachers, award-winning Guardian columnist Oliver Burkeman delivers an entertaining, humorous, practical, and ultimately profound guide to time and time management.
Join Oliver, the author of Four Thousand Weeks: Time and How to Use It, as he addresses the challenge of how best to use our 4,000 weeks.
This event is hosted live on Zoom Webinar. You'll receive a link to join a couple of days before the event takes place and a reminder an hour before. During the event, you can ask questions via a Q&A function but audience cameras and microphones will remain muted throughout.
Book sales
You can buy copies of many of our speakers' books from Fox Lane Books, a local independent bookseller and Festival partner. In some cases, author signed bookplates are available too.
About the speaker
Oliver Burkeman is a journalist and author of The Antidote: Happiness for People Who Can't Stand Positive Thinking and Help! How to Become Slightly Happier and Get a Bit More Done, a collection of his columns from the Guardian's Weekend magazine. His next book, Four Thousand Weeks: Time and How to Use It will be published in August 2021. His writing has also appeared in The Observer, The New York Times, New Philosopher and Psychologies magazine.
Partners