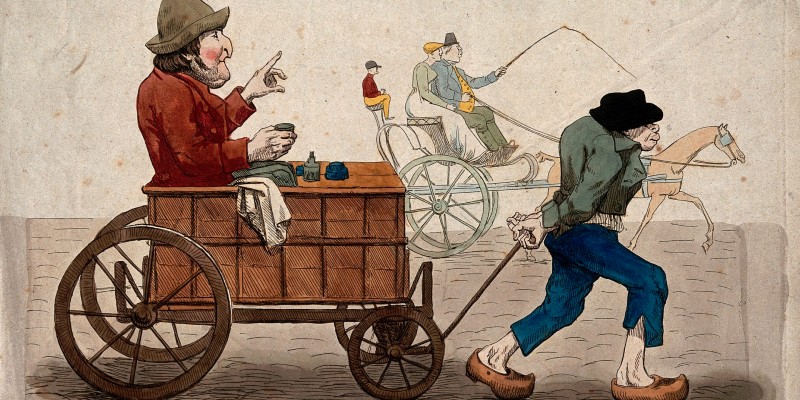 Health Inequality: Roman Britain to Covid Britain Richard Cookson and Ellen Kendall
Talk
This event has now finished.
Date and time:

Tuesday 8 June 2021, 6pm to 7pm

Location:

Online only

Admission:

Free admission, booking required
Event details
Learn about the history of health inequality in Britain over the past 2,000 years and discover if we can do better in the future.
Based on archaeological findings from skeletons buried in affluent and poor areas, archaeologist Ellen Kendall will explore common themes in health across periods and suggest ways in which studying health in the past can provide insight to the present.
Health Economist Richard Cookson will then talk about current health inequalities in Britain and what we can do about them over the next 2,000 years.
This event is hosted live on Zoom Webinar. You'll receive a link to join a couple of days before the event takes place and a reminder an hour before. During the event, you can ask questions via a Q&A function but audience cameras and microphones will remain muted throughout.
Image credit: A poor apothecary in a cart being drawn by his servant are overtaken by a wealthy couple in a horse-drawn carriage with a seat at the back for their servant. Coloured etching. Credit: Wellcome Collection
About the speakers
Richard Cookson is a Professor at the Centre for Health Economics, University of York. He has helped to pioneer 'equity-informative' research methods for providing decision makers with information about how to reduce health inequalities, including methods of distributional cost-effectiveness analysis; methods of health equity monitoring for healthcare quality assurance; and methods for investigating public concern for reducing health inequality. He has co-chaired various international working groups on equity, worked in the UK Prime Minister's Delivery Unit and served on various NHS advisory committees.
Ellen Kendall is a Postdoctoral Researcher at the Bioarcheology Research Group within the Department of Archaeology, University of Durham. She recently completed a pilot study of the history of health inequality in Britain, involving inter-disciplinary collaboration with archaeologists, economists, epidemiologists and social historians from the Universities of Durham and York, and her wider research interests include the childhood origins of population health and biosocial influences on health.
Partners