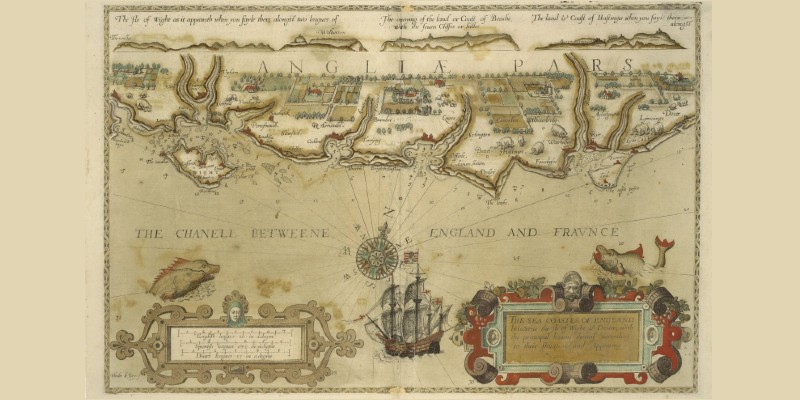 Horizons of Print Helen Smith, J T Welsch and Georgina Wilson
Film
Panel discussion
Talk
This event has now finished.
Date and time:

Friday 11 June 2021, 6pm to 7pm

Location:

Online only

Admission:

Free admission, booking required
Event details
Discover how the invention of printing changed the horizons of what was possible, bringing new knowledge to a much wider range of audiences.
Georgina Wilson of the University of Cambridge, and Helen Smith and J T Welsch of the University of York, explore the changing horizons of knowledge on and off the printed page through a talk, film and discussion.
Find out how printed books and objects helped to foster and spread new understandings of the world - including what it looked like, how it was navigated (with paper and other instruments), and where the frontiers of knowledge lay.
And then enjoy a virtual tour of Thin Ice Press, home to five historic iron presses and a reproduction common press, at the University of York, before joining our speakers for a discussion.
This event is hosted live on Zoom Webinar. You'll receive a link to join a couple of days before the event takes place and a reminder an hour before. During the event, you can ask questions via a Q&A function but audience cameras and microphones will remain muted throughout.
You may also be interested in a free online course 'Poetry: How to Read a Poem' with Helen Smith and other York academics. The four-week course begins on 28 June.
About the speakers
Helen Smith is Professor of Renaissance Literature and Head of the Department of English and Related Literature at the University of York, UK. She is especially interested in how books are made and used, and has been building a replica printing press as part of her research. She is the author of Grossly Material Things: Women and Book Production in Early Modern England (Oxford University Press, 2012), which was awarded the Roland H. Bainton Literature Prize by the Sixteenth-Century Society and Conference, and the DeLong Book History Prize, awarded by the Society for the History of Authorship, Reading and Publishing.
JT Welsch is a Senior Lecturer in English and Creative Industries at the University of York, where he is co-founder of Thin Ice Press. His research and creative practice focuses on language and the ethics of creative labour. He is the author of The Selling and Self-Regulation of Contemporary Poetry (Anthem, 2020), and the co-editor of Wretched Strangers: Borders Movement Homes with Ágnes Lehóczky (Boiler House, 2018). He has published a number of poetry books, including letterpress editions of his own work, designed and printed with Thin Ice Press.
Georgina Wilson is a Research Fellow at Fitzwilliam College, Cambridge. Her research asks what kinds of objects books are and have been, and why this matters for how we read. Her PhD, for which she studied at the University of Oxford, is called Paperscapes: Navigating Books in Early Modern England. This project is interested in how the papery forms of printed texts travelled around the book, the city, the library, and the globe – both in reality and in the historic imagination.
Thin Ice Press
Thin Ice Press is housed at the University of York. It is home to five historic iron presses, and is in the process of building a reproduction common press, based on one that belonged to Thomas Gent – a York printer who produced pamphlets on the frozen River Ouse in 1740. The press will provide an opportunity to tell the history of printing in York, undertake innovative research, and create links with the wider letterpress community of today.
Partners