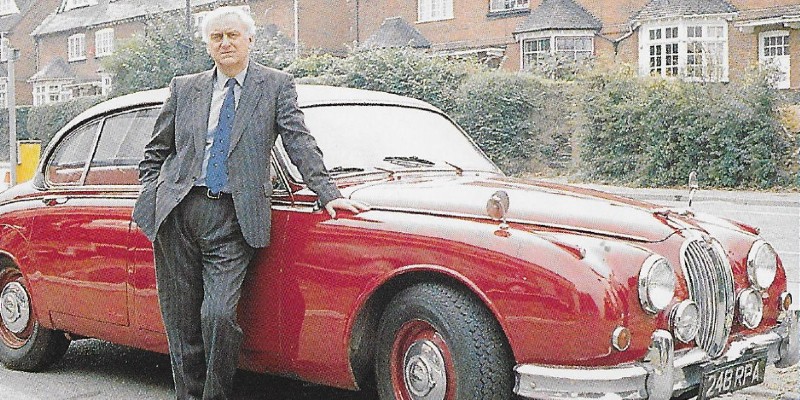 Higher Education in Inspector Morse David Lascelles, Sarah Olive and Jem Bloomfield
Talk
This event has now finished.
Date and time:

Sunday 20 June 2021, 11am to 12pm

Location:

Online only

Admission:

Free admission, booking required
Event details
Our expert speakers explore representations of British higher education in the Inspector Morse series of books and television programmes.
David Lascelles, one of the producers of the much-celebrated ITV series, starring John Thaw in the title role and Kevin Whately as Lewis, will share his insights into the making of the series. He'll explain the importance of a sense of place to a series like Morse, negotiating Oxford's busy streets, and faking it, when the team couldn't make it there.
Sarah Olive, who is currently writing on the series for a forthcoming book on Television Series as Literature, will challenge perceptions of the series as all 'dreaming spires' and conservative Oxbridge nostalgia. She will suggest that Morse's character can be a scathing, decidedly left-wing critic of the politics of UK higher education under Thatcher: his dialogue is peppered with sharp comments drawing attention to the insidious class and sexual politics he perceives playing out behind the gorgeous facades of Oxford's colleges. Using illustrative examples from the novels and TV series, Sarah will demonstrate key differences between the representations of the university on page and screen.
Morse's representations of higher education will be contextualised with reference to other well-known and much-loved crime fiction, such as the writing of Dorothy L. Sayers and P.D. James, by Jem Bloomfield, author of Witchcraft and Paganism in Mid-century Women's Detective Fiction.
This is a YouTube Premiere event. You'll be sent a link to the screening a couple of days before it takes place, as well as a reminder an hour before. You can ask the speakers your questions live in the YouTube chat throughout the stream.
Image credit: Flickr/Richard Harris, Inspector Morse Booklet 2
About the speakers
David Lascelles worked as a producer of films and TV shows for more than 20 years, initially of documentaries (including Tibet – a Buddhist Trilogy in India & Nepal), then on drama for TV and the cinema. His credits include Inspector Morse, Moll Flanders, and Second Sight for TV and for the cinema The Wedding Gift (with Julie Walters and Jim Broadbent), The Wisdom of Crocodiles (with Jude Law) and the Ian McKellen starring movie of Shakespeare's Richard III. His productions have been nominated for numerous awards, Morse winning the BAFTA for best TV Drama Series in 1991. Recently he was Executive Producer of the film of Geraldine Connor's epic theatrical production Carnival Messiah. David's other great love is for the Himalayas, where he has travelled extensively. In 2004/5 he invited a group of monks from Bhutan to build a stupa at Harewood and he has written a book about it, A Hare-Marked Moon, available from May 2021.
Dr Sarah Olive is a Senior Lecturer in English in Education at the University of York, UK. Her chapter '"University politics": change and continuity in representations of higher education between ITV's series Inspector Morse and Colin Dexter's Morse novels' is forthcoming in the book Television Series as Literature: From the Ordinary to the Unthinkable, edited by Reto Winckler and Victor Martin Huertas (London: Palgrave). She is the lead author of Shakespeare in East Asian Education, forthcoming with Palgrave, and the author of Shakespeare Valued: Education Policy and Pedagogy, 1989-2009 (Bristol: Intellect). She is the lead editor of the international journal Jeunesse: young people, texts, cultures. ITV's series starring John Thaw in the lead role got her hooked on Morse as a child, so naturally her bridal car was a Mark II Jaguar.
Dr Jem Bloomfield is Assistant Professor of Literature at the University of Nottingham, UK. His research interests include detective fiction, fantasy, Renaissance drama and the Bible. He has published journal articles on Agatha Christie, P.D. James and Ngaio Marsh in English Literary History and Shakespeare. He is the author of Words of Power: Reading Shakespeare and the Bible (Lutterworth, 2016) and the forthcoming Witchcraft and Paganism in Midcentury Women's Detective Fiction (Cambridge University Press). He is currently working on a study of the influence of Dorothy L. Sayers on the detective novel.
Partners