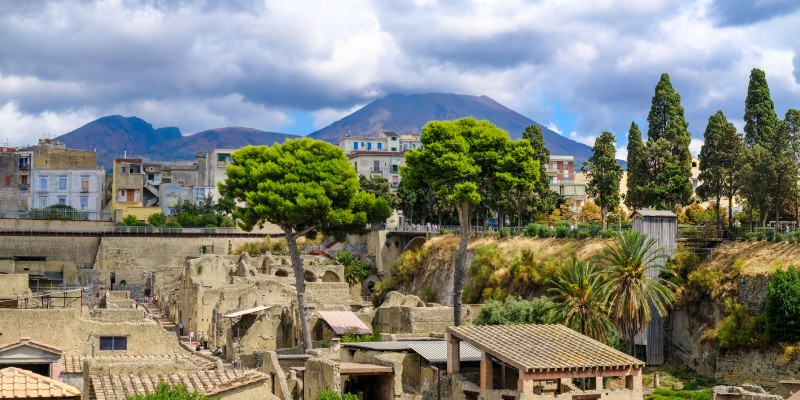 Life and Death in the Shadow of Vesuvius Oliver Craig, Silvia Soncin and Tim Thompson
Panel discussion
Date and time:

Saturday 12 June 2021, 4pm to 5pm

Location:

Online

Admission:

Free admission, booking required
Event details
Throughout antiquity there are events so spectacular that they capture the imagination and fascination of everyone. The eruption of Vesuvius in 79AD is one such example.
The eruption of the volcano resulted in the unprecedented preservation of Roman life, captured in the entombed towns of Pompeii, Herculaneum and others around the region.
Tim Thompson of Teesside University, and Oliver Craig and Silvia Soncin of the University of York, will explore recent groundbreaking research on the victims of the eruption. Join them as they show how archaeologists can glean a better understanding of life and death in the past through the scientific study of human remains.
This event is hosted live on Zoom Webinar. You'll receive a link to join a couple of days before the event takes place and a reminder an hour before. During the event, you can ask questions via a Q&A function but audience cameras and microphones will remain muted throughout.
About the speakers
Oliver Craig is a Professor of Archaeological Science, Director of BioArCh and Deputy Head of the Department of Archaeology at the University of York. He specialises in biomolecular archaeology, ie the recovery of proteins, lipids and DNA from ancient skeletal remains and archaeological artefacts to provide insights into past human activities.
Silvia Soncin is in her final year of PhD in Archaeology at the University of York. She specialised in the study of ancient biomolecules and is particularly interested in the analysis of stable isotopes of amino acids to explore dietary habits of past human societies.
Tim Thompson is a Professor of Applied Biological Anthropology and Associate Dean (Academic) at Teesside University. He has been studying the effects of heating and burning on the human body for 20 years and has published considerably in this area, including the book The Archaeology of Cremation.
Partners