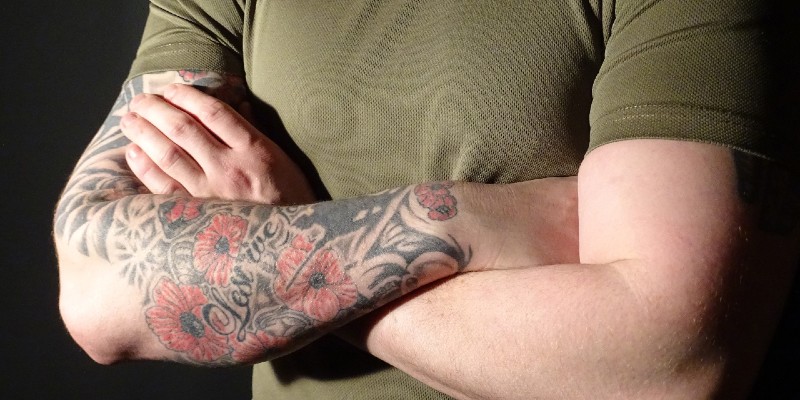 Military Ink: Tattooing and the British Army Jennifer Allison
Talk
This event has now finished.
Date and time:

Friday 18 June 2021, 2pm to 3pm

Location:

Online

Admission:

Free admission, booking required
Event details
People get tattoos for lots of different reasons, sometimes to fit in and sometimes to stand out.
With the military, you have to abide by certain rules on how you look and how you dress. So when you go on Physical Training, you have to wear the same green top, the same black shorts. Tattoos let you keep your individuality within uniformity.
Join Jennifer Allison, Deputy Director of the Army Museums Ogilby Trust, to discover the history of tattooing policy and culture in the British Army.
This event is hosted live on Zoom Webinar. You'll receive a link to join a couple of days before the event takes place and a reminder an hour before. During the event, you can ask questions via a Q&A function but audience cameras and microphones will remain muted throughout.
About the speaker
Jennifer Allison is the Deputy Director of the Army Museums Ogilby Trust, an independent charity providing support to Army museums across the UK. Formerly the Curator at the REME Museum, Jennifer was the lead for their tattoo exhibition in 2018. Entitled Military Ink, the temporary exhibition showcased the body art of former and serving REME soldiers and officers and presented their experiences in regard to their tattoos. Jennifer is currently studying for her PhD at Bristol University, focusing on the culture and history of tattooing within the British Army.
Partners