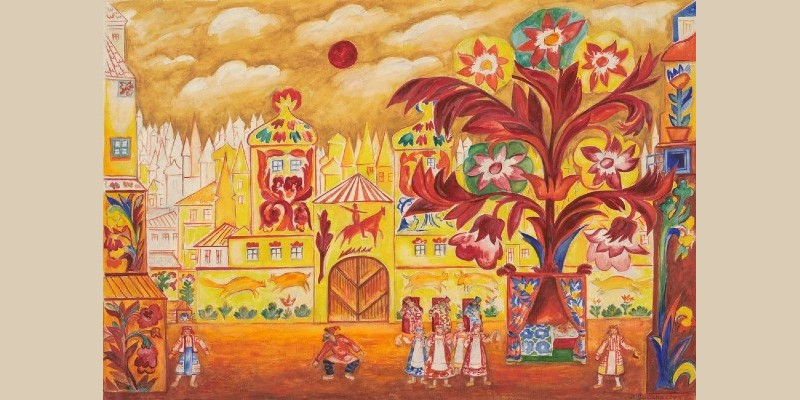 The Fire-Bird of Russian Avant-Garde Elena Kashina
Talk
Date and time:

Friday 11 June 2021, 6pm to 7pm

Location:

Online

Admission:

Free admission, booking required
Event details
Natalia Goncharova (1881-1962) was an artist whose life and work encapsulate the artistic and socio-political developments in Europe at the turn of the 19th to the mid-20th century. One of the first professional women artists, and at the forefront of the nascent avant-garde, she explored and helped to define new artistic vocabularies, astounded with her interpretations of traditional scenes and charmed with her polite demeanour.
Art historian Elena Kashina will explain how Goncharova drew inspiration from Russian traditional religious painting, folk art and Moscow's pioneering collections of French post-impressionists. The result is a body of work which infatuates with the strength of its visual impact, its intellectual rigour and gentleness.
Discover how Goncharova's infinity stretches both ways - forward into the new and backwards resting solidly on cultural tradition – in this richly illustrated talk.
This is a YouTube Premiere event. You'll be sent a link to the screening a couple of days before it takes place, as well as a reminder an hour before. You can ask the speakers your questions live in the YouTube chat throughout the stream.
Image credit: Natalia Goncharova set design for Le coq d'Or, Wikimedia Commons
Book sales
You can buy copies of many of our speakers' books from Fox Lane Books, a local independent bookseller and Festival partner. In some cases, author signed bookplates are available too.
About the speaker
Dr Elena Kashina is a Lecturer with the Centre for Lifelong Learning at the University of York. She studied for her MPhil in Medieval Viking and Scandinavian Studies at the University of Oslo, following an award of a scholarship by the Research Council of Norway, and gained her PhD in the History of Art at Leeds University in 2008. Her research interests link Russia's medieval artistic and philosophical paradigms with those that became prevalent in the second part of the 19th to early 20th century. A special field of inquiry is Norwegian art production in the 19th to mid-20th centuries, and the process of reconstructing a national identity in Norway in the same period.
Partners