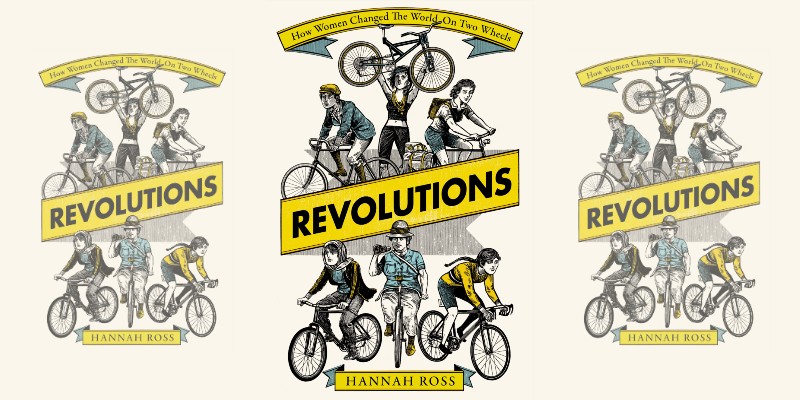 Revolutions: How women changed the world on two wheels Hannah Ross
Talk
Date and time:

Wednesday 16 June 2021, 6pm to 7pm

Location:

Online

Admission:

Free admission, booking required
Event details
Simone de Beauvoir borrowed her lover's bike to cycle around Paris in the 1940s, instantly falling in love with the freedom it gave her (even when an accident caused her to lose a tooth). Alice Hawkins, a factory worker from Leicester, pedal-powered her fight for universal suffrage as the bicycle became a cornerstone of her work to recruit women to the cause. Zahra Naarin Hussano challenged religious and cultural taboos in Afghanistan to ride a bike and teach others to do the same. As a 24-year-old Latvian immigrant living in Boston, in 1894 Annie 'Londonderry' Kopchovsky became the first woman to cycle around the world.
Many of these women were told they couldn't or shouldn't cycle, but they did so anyway. Whether winning medals or spreading the word about votes for women, their stories are an inspiration. Hannah Ross, author of Revolutions: How Women Changed the World on Two Wheels, will introduce you to some of the women who are part of the rich and varied history of cycling, many of whom have been pushed to the margins or forgotten. Join her as she celebrates the excellence of women in cycling.
This event is hosted live on Zoom Webinar. You'll receive a link to join a couple of days before the event takes place and a reminder an hour before. During the event, you can ask questions via a Q&A function but audience cameras and microphones will remain muted throughout.
Book sales
You can buy copies of many of our speakers' books from Fox Lane Books, a local independent bookseller and Festival partner. In some cases, author signed bookplates are available too.
About the speaker
Hannah Ross works for an independent publisher in London. When she isn't working on other people's books or writing her own, she is usually on a bike. She belongs to a local cycling club and also volunteers for a charity helping refugee women learn to ride bikes. Whenever she can, she packs up her saddle bags and heads for the open road, and now she doesn't feel she's really travelled anywhere unless it's on two wheels. Given the choice, Hannah would always rather be (slowly) pedaling up mountains than almost anywhere else. She also spends too long thinking about the next bicycle she really "needs."
Partners