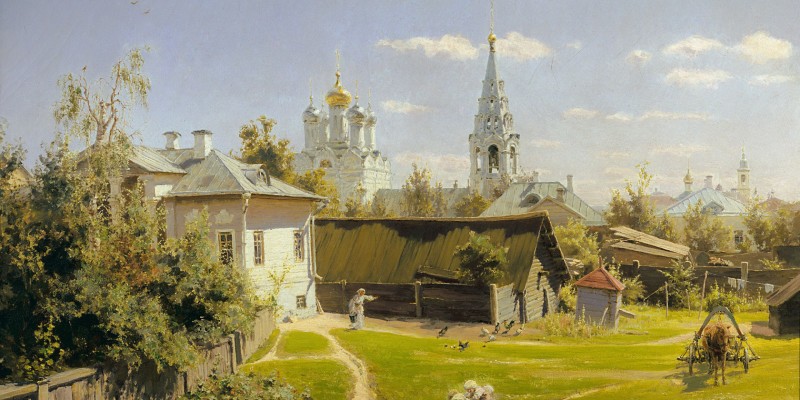 Russian Landscape Painting Elena Kashina
Talk
Date and time:

Tuesday 8 June 2021, 6pm to 7pm

Location:

Online

Admission:

Free admission, booking required
Event details
Russian landscape painting underwent a dramatic change in the mid-19th century when a new taste for realist painting developed alongside a greater interest in national themes. Scenes of lyrical intensity and poetic exploration of the pensive Russian vistas and charming forests started to emerge to replace a previously widespread adoration of exotic lands and classical columns.
Join art historian Elena Kashina as she discusses the new techniques and artistic vocabularies that emerged in quick succession in the space of a few decades, informed by societal interaction with rapidly changing fashions and intercultural and intermedial exchanges.
Discover how landscape painting became a laboratory for innovation and captivated the minds as well as the hearts of art practitioners and admirers alike.
This is a YouTube Premiere event. You'll be sent a link to the screening a couple of days before it takes place, as well as a reminder an hour before. You can ask the speakers your questions live in the YouTube chat throughout the stream.
Image credit: Wikimedia Commons, Moscow Courtyard (Polenov 1878)
About the speaker
Dr Elena Kashina is a Lecturer with the Centre for Lifelong Learning at the University of York. She studied for her MPhil in Medieval Viking and Scandinavian Studies at the University of Oslo, following an award of a scholarship by the Research Council of Norway, and gained her PhD in the History of Art at Leeds University in 2008. Her research interests link Russia's medieval artistic and philosophical paradigms with those that became prevalent in the second part of the 19th to early 20th century. A special field of inquiry is Norwegian art production in the 19th to mid-20th centuries, and the process of reconstructing a national identity in Norway in the same period.
Partners