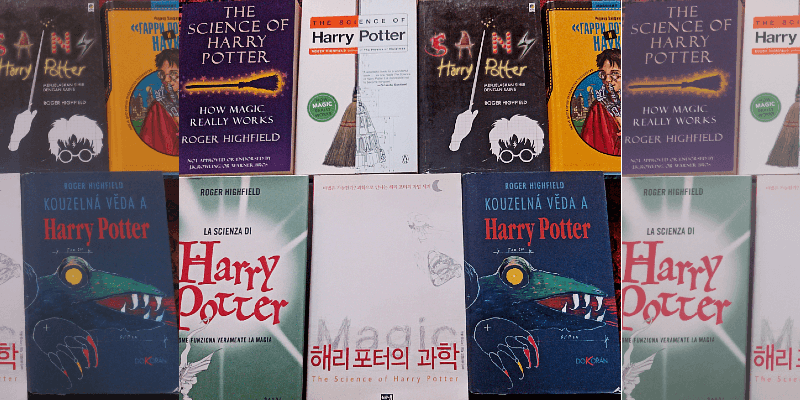 The Science of Harry Potter Roger Highfield
Talk
Date and time:

Tuesday 15 June 2021, 1pm to 2pm

Location:

Online

Admission:

Free admission, booking required
Event details
Go behind the magic of Harry Potter as author Roger Highfield takes a witty and illuminating look at the scientific principles, theories and assumptions of the boy wizard's world.
Can Fluffy the three-headed dog be explained by advances in molecular biology? Could the discovery of cosmic 'gravity-shielding effects' unlock the secret to the Nimbus 2000 broomstick's ability to fly? Is the griffin really none other than the dinosaur Protoceratops?
Roger, author of The Science of Harry Potter: How Magic Really Works, explores the fascinating links between magic and science to reveal that much of what strikes us as supremely strange in the Potter books can actually be explained by the conjurings of the scientific mind.
This is the perfect event for parents who want to teach their children science through their favourite adventures, as well as for adult fans of the series intrigued by its marvels and mysteries.
This event is hosted live on Zoom Webinar and you'll receive a link to join a couple of days before it takes place. During the event, you can ask questions via a Q&A function but audience cameras and microphones will remain muted throughout.
About the speaker
Roger Highfield is the Science Director at the Science Museum Group - which includes the National Railway Museum in York, a member of the UK's Medical Research Council and a Visiting Professor at the Dunn School, University of Oxford, and Department of Chemistry, UCL. He studied Chemistry at the University of Oxford and was the first person to bounce a neutron off a soap bubble. Roger was the Science Editor of The Daily Telegraph for two decades, and the Editor of New Scientist between 2008 and 2011. He has written or co-authored a number of popular science books, including the critically acclaimed The Physics of Christmas and The Dance of Life (with Magda Zernicka-Goetz).
Partners