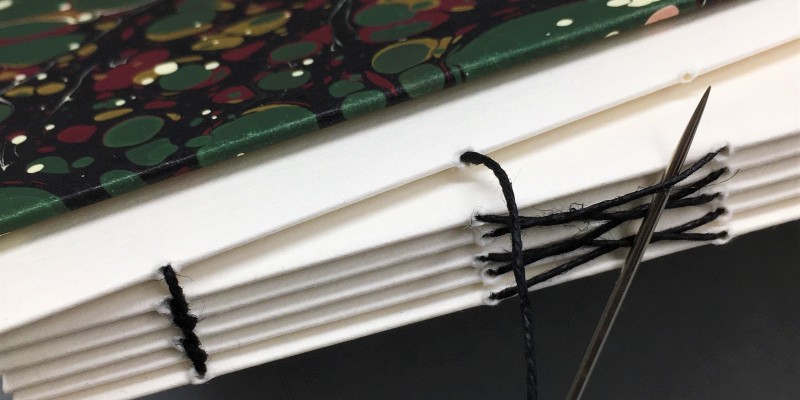 The Satisfaction of a Simple Binding: Live Q&A Emma Lloyd-Jones and Catherine Firth
Talk
Date and time:

Sunday 20 June 2021, 1pm to 2pm

Location:

Online

Admission:

Free admission, booking required
Event details
Notebooks and journals can be used to record information, hold memories and display artwork - and even exist as works of art in themselves.
This event is designed for those who have followed an instructional video on how to bind a simple book, created especially for this year's Festival by York conservators Emma Lloyd-Jones and Catherine Firth.
Join Emma and Catherine live to share your experiences of binding a book, to ask any questions you may have and to find out about different techniques.
You can watch Emma and Catherine's instructional video, and find out what tools and materials you will need during the Festival. Details will be posted here soon. Written instructions are available below.
A Simple Binding (PDF

, 1,166kb)
This event is hosted live on Zoom Webinar and involves using webcams and/or microphones. You'll receive a link to join a couple of days before the event takes place and a reminder an hour before. Under-18s must have an adult present. Please remember to warn other members of your household that you are taking part and check you are happy for your background to be visible. We recommend you use first names only, and that you don't include anything that identifies your home address. Remember you can switch off your camera and/or microphone at any time.
Social media
For those who have followed the instructional video, but are unable to attend the live event, we'd still love to see how you have got on. Why not share a video or photo of your book binding on social media using the #YorkIdeasBinding or email it to us to share?
Facebook: YorkFestivalofIdeas
Twitter: @YorkFestofIdeas
Instagram: yorkfestivalofideas
Email: yorkfestivalofideas@york.ac.uk.
Staying safe online
Please remember to warn other members of your household that you are taking a photo/creating a video to post online, and check what background is going to be visible. Under 18s should be supervised, and we would recommend that you use first names only and don't include anything that identifies you or your home address.
About the speaker
A book and paper conservator with 30 years' experience, Emma Lloyd-Jones has been employed by libraries and archives in London, Oxford, Dublin, Newcastle, Durham and York.
Catherine Firth has worked in archive conservation here in York for 13 years, and has a particular interest in both historic binding structures and the conservation of parchment.
Partners