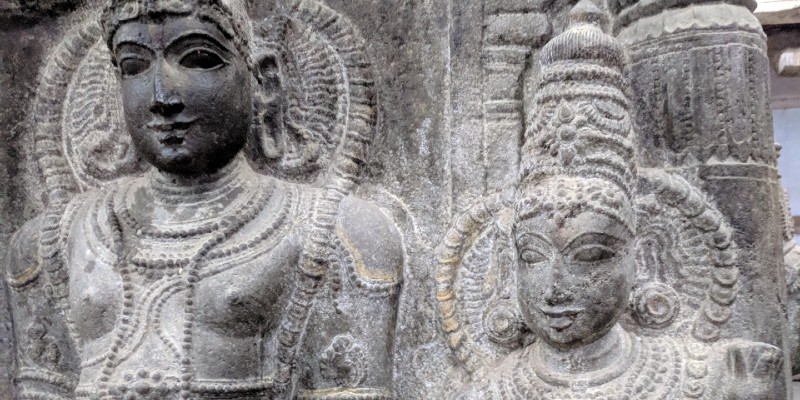 Sita, Princess of Mithila Manasamitra
Performance
This event has now finished.
Date and time:

Saturday 12 June 2021, 8pm to 8.45pm

Location:

Online only

Admission:

Free admission, booking required
Event details
Sita, wife of Lord Rama, features prominently in the epic Ramayana. Manasamitra presents a musical podcast that delves into her life from the time she emerged from Bhoomi (Mother Earth) to the end of her known existence.
Learn about the various phases of her life which even today is considered exemplary. Stories will be interspersed with classical music from both the Carnatic (South Indian) and Hindustani (North Indian) traditions.
For the podcast, Supriya Nagarajan, artistic director of Manasamitra, will recite and sing, with music support from Duncan Chapman. Together they will take you on a gentle soothing journey that tells an age-old story in an interesting way, and which invites listeners to ponder and reflect on the various elements.
Vocals - Supriya Nagarajan
Lyrics - Arjun Bharadwaj
Mixing/Mastering/Sounds - Duncan Chapman
Percussion/Drums - Marc Layton-Bennett

Flute - Karin De Fleyt
This is a YouTube Premiere event. You'll be sent a link to the event (which is sound only) a couple of days before it takes place, as well as a reminder an hour before. You can ask the performer your questions live in the YouTube chat throughout the stream.
Please consider supporting Manasamitra with a donation. More details here.
About the performers
Manasamitra is a company based in West Yorkshire that produces cutting-edge work in multiple genres. Artistic director Supriya Nagarajan is an adept composer/vocalist who has repurposed the work of the company to embrace the new digital avatar of the sector. Podcasting is a new outing for the company and a series of podcasts on the occasion of Diwali in 2020 has led to the new musical work involving ancient Indian mythology.
Supriya Nagarajan and Duncan Chapman have worked together creating interesting immersive work for the last six years including a journey into lullabies (Lullaby Sonic Cradle), tea (Sound of Tea) and various others in this time. Supriya is a UK-based South Indian classical Carnatic vocalist/composer who has performed inter-nationally. She collaborates with artists from other genres creating new musical vocabulary and constantly widening musical boundaries. Supriya is also a PRSF Jerwood composer, recipient of Arts Council funding and an alumna of New Voices, Sound and Music 2018. Find out more about Manasamitra's current and previous projects at manasamitra.com.
Partners