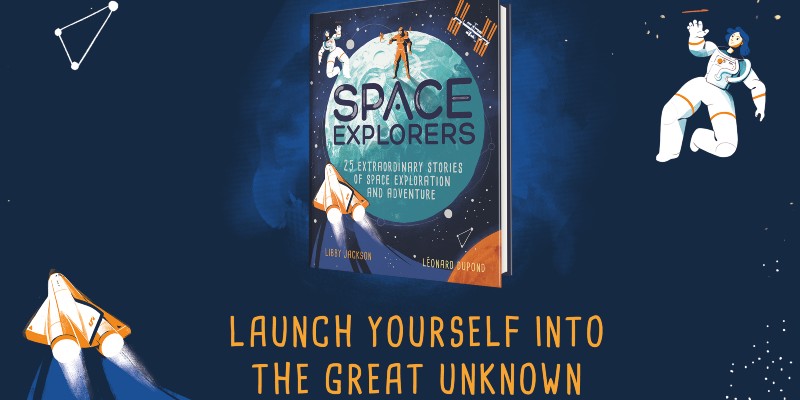 Space Explorers! Libby Jackson
Talk
Date and time:

Tuesday 8 June 2021, 4pm to 5pm

Location:

Online

Admission:

Free admission, booking required
Event details
Humans have always been fascinated by the Universe, but only a few have been daring enough to travel beyond the Earth. From venturing into space for the first time to building the International Space Station in orbit, the history of space exploration is filled with peril, bravery and strokes of genius.
Join spaceflight expert Libby Jackson as she reveals the very best true stories of humankind's thrilling journey to the stars. Grab your space suit and jump aboard – it's time for an astronautical adventure!
Space Explorers! is particularly suitable for children aged eight to 14 years old.
This event is hosted live on Zoom Webinar. You'll receive a link to join a couple of days before the event takes place and a reminder an hour before. During the event, you can ask questions via a Q&A function but audience cameras and microphones will remain muted throughout.
Image credit: Wren and Rook
Book sales
You can buy copies of many of our speakers' books from Fox Lane Books, a local independent bookseller and Festival partner. In some cases, author signed bookplates are available too.
About the speaker
Libby Jackson is one of Britain's leading experts in human spaceflight, having spent over a decade working at the forefront of the field. Space was a childhood passion and after completing degrees in physics at Imperial College and astronautics and space engineering at Cranfield University, she has worked in the space industry ever since.
Libby spent seven years working at the European Space Agency's Mission Control for the International Space Station in a number of roles including her dream job as a Columbus Flight Director. She played a key role in Tim Peake's mission to the International Space Station and continues to work in the field. She is a frequent contributor on television and radio, including Stargazing Live, The Big Think: Should We Go To Mars? and Astronauts: Do You Have What It Takes? Libby is passionate about sharing stories of human spaceflight and encouraging young people to follow their passions in life. Her first book, A Galaxy of Her Own: Amazing Stories of Women in Space was published in 2017. Space Explorers: 25 Extraordinary Stories of Space Exploration and Adventure was published in September 2020 with Wren and Rook.
Partners