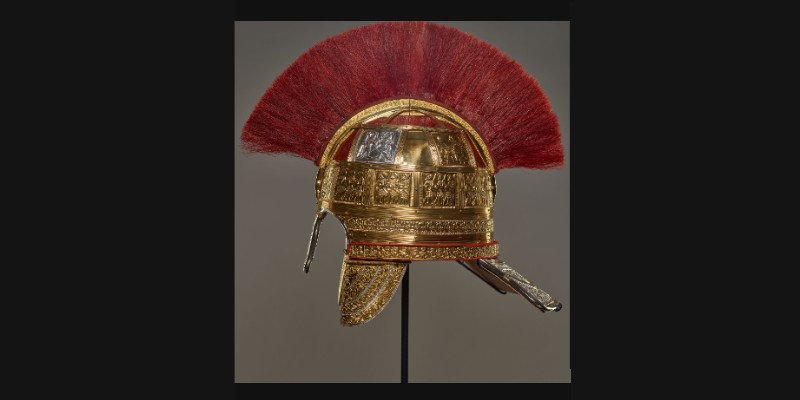 The Staffordshire Hoard: An Anglo-Saxon treasure Chris Fern
Talk
This event has now finished.
Date and time:

Sunday 13 June 2021, 4pm to 5pm

Location:

Online only

Admission:

Free admission, booking required
Event details
The unprecedented discovery in 2009 of almost 6 kg of early Anglo-Saxon gold and silver objects in a Staffordshire field made international headlines. Its hundreds of small items come mostly from weaponry, especially sword hilts, but there are also a small number of Christian ceremonial items, as well as a royal helmet. All are of the highest order, not only in terms of their precious-metal manufacture, but also artistically and symbolically. Despite this, the valuable artefacts had all been damaged prior to burial, though little evidence survived of exactly how they had entered the ground.
Reconstructing the artefacts and explaining how and why they had been assembled and buried posed considerable challenges, therefore, for the six-year research project commissioned by Historic England. Its results were revealed in The Staffordshire Hoard: An Anglo-Saxon Treasure, published by the Society of Antiquaries of London.
Join one of the editors of The Staffordshire Hoard, Chris Fern, and discover the story of this important discovery. An Honorary Research Fellow of the University of York, Chris will consider the 'battlefield' character of the collection, as well as the hidden meaning of the intricate ornament on its exquisite objects, before exploring the wider archaeological and historical context of this important find.
This event is hosted live on Zoom Webinar and you'll receive a link to join a couple of days before it takes place. During the event, you can ask questions via a Q&A function but audience cameras and microphones will remain muted throughout.
Please note: This talk will not be available on YouTube afterwards, so be sure to book a ticket to our live event to avoid missing out.
Image credit: Staffordshire Hoard Helmet Reconstruction, Birmingham Museum Trust
Book sales
You can buy copies of many of our speakers' books from Fox Lane Books, a local independent bookseller and Festival partner. In some cases, author signed bookplates are available too.
About the speaker
Chris Fern is a heritage consultant based in North Norfolk and specialises in the archaeology of early Anglo-Saxon England (AD 450–650). He is an Honorary Research Fellow and Associate with the University of York's Department of Archaeology. Together with Tania Dickinson and Leslie Webster, he edited The Staffordshire Hoard: An Anglo-Saxon Treasure. Chris has also published on the Sutton Hoo cemetery, on the period's intriguing animal art, and on the fascinating custom of horse-burial.
Partners