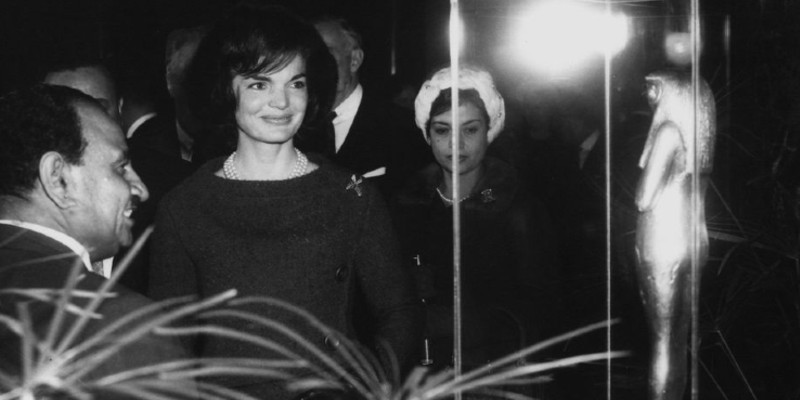 Tutankhamun: From boy-king to blockbuster Christina Riggs
Talk
Date and time:

Saturday 19 June 2021, 11am to 12pm

Location:

Online

Admission:

Free admission, booking required
Event details
The discovery of Tutankhamun's tomb in 1922 made the young pharaoh a legend overnight – but by the 1950s he was old news and out-of-fashion.
That changed when Egypt started to build the Aswan High Dam – and sent objects from the tomb on tour to the United States, to raise awareness of the Dam's engineering feat as well as the ancient temples threatened by the backed-up Nile.
From Jackie Kennedy to Jimmy Carter, through the Cold War and the oil crisis, the boy-king helped invent the blockbuster exhibition and still draws record crowds. But have his travels through politics, consumer culture, and world heritage made us lose sight of Tutankhamun's own history, ancient and modern?
Join historian Christina Riggs of Durham University as she explores how the world re-discovered Tutankhamun in the 1960s and '70s, turning an icon into an industry.
This event is hosted live on Zoom Webinar. You'll receive a link to join a couple of days before the event takes place and a reminder an hour before. During the event, you can ask questions via a Q&A function but audience cameras and microphones will remain muted throughout.
Image credit: First Lady Jacqueline Kennedy (JBK) attends the opening of the Tutankhamun Exhibit, National Gallery of Art/JKF Library. Credit: Abbie Rowe. White House Photographs. John F. Kennedy Presidential Library and Museum, Boston
Book sales
You can buy copies of many of our speakers' books from Fox Lane Books, a local independent bookseller and Festival partner. In some cases, author signed bookplates are available too.
About the speaker
Christina Riggs is Professor of the History of Visual Culture at Durham University. She is the author of several books on ancient Egyptian culture and the modern history of archaeology, including Photographing Tutankhamun (Bloomsbury 2019) and Ancient Egyptian Magic: A Hands-On Guide (Thames & Hudson 2020). Her next book, Treasured: How Tutankhamun Shaped a Century, out in autumn 2021 with Atlantic Books, tells the story of the Tutankhamun discovery from 1922 to the present day.
Partners