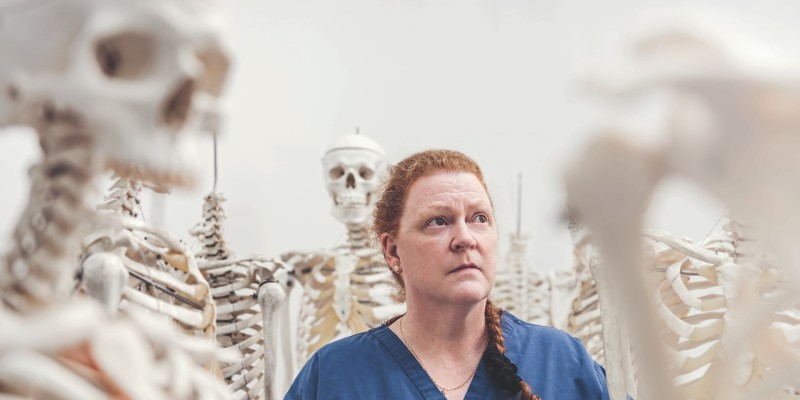 Written in Bone Sue Black and Ruth Penfold-Mounce (Chair)
Talk
Date and time:

Tuesday 15 June 2021, 8pm to 9pm

Location:

Online

Admission:

Free admission, booking required
Event details
Join the world-renowned forensic anthropologist Sue Black for a remarkable journey of revelation and discover the secrets hidden deep within our bones.
From skull to feet, via the face, spine, chest, arms, hands, pelvis and legs, she will show that each part of us has a tale to tell. What we eat, where we go, everything we do leaves a trace, a message that waits patiently for months, years, sometimes centuries, until a forensic anthropologist is called upon to decipher it.
Some of this information is easily understood, some holds its secrets tight and needs scientific cajoling to be released. But by carefully piecing together the evidence, the facts of a life can be rebuilt.

Limb by limb, case by case - some criminal, some historical, some unaccountably bizarre – Sue, author of Written in Bone, will reconstruct with intimate sensitivity and compassion the hidden stories in what we leave behind.
Sue will be joined in conversation by sociologist Ruth Penfold-Mounce of the University of York.
This event is hosted live on Zoom Webinar. You'll receive a link to join a couple of days before the event takes place and a reminder an hour before. During the event, you can ask questions via a Q&A function but audience cameras and microphones will remain muted throughout.
Image credit: Morgan SilkWired © The Conde Nast Publications Ltd
Book sales
You can buy copies of many of our speakers' books from Fox Lane Books, a local independent bookseller and Festival partner. In some cases, author signed bookplates are available too.
About the speakers
Professor Dame Sue Black is one of the world's leading anatomists and forensic anthropologists. She is also the Pro-Vice Chancellor for Engagement at Lancaster University and has just been elevated to the House of Lords. She was the lead anthropologist for the British Forensic Team's work in the war crimes investigations in Kosovo, and she was one of the first forensic scientists to travel to Thailand following the Indian Ocean tsunami to provide assistance in identifying the dead. Sue is a familiar face in the media, where documentaries have been filmed about her work, and she led the highly successful BBC 2 series History Cold Case. Sue was appointed Dame Commander of the Order of the British Empire in the 2016 Queen's Birthday Honours for services to forensic anthropology. She is the author of the critically acclaimed Sunday Times bestseller All That Remains.
Dr Ruth Penfold-Mounce is a Senior Lecturer in the Sociology Department at the University of York. Her research interests lie in crime, popular culture and death with her most recent book Death, The Dead and Popular Culture published by Emerald in 2018. Ruth is the principal Editor of Emerald Studies in Death and Culture, leads the Death and Culture Network (DaCNet) and is keen user of twitter @DeathandCulture. She is passionate about getting the public to engage with academic research as well as social issues and ideas more broadly and annually contributes to the York Festival of Ideas.
Partners