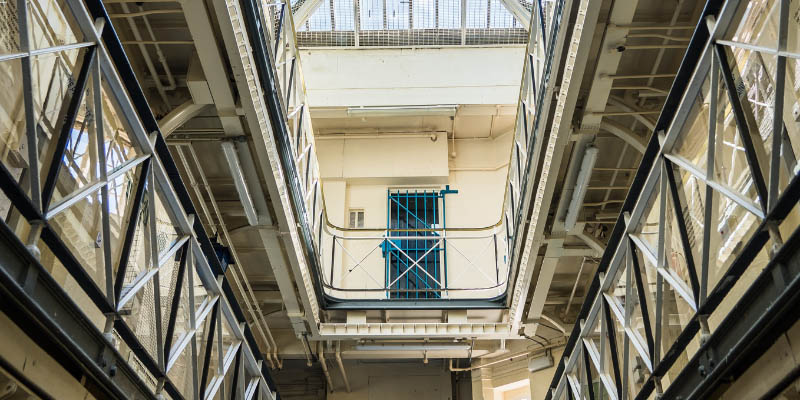 Reimagining Punishment: Do prisons work? Alice Ievins, Angela Kirwin, Justin Russell and Geoff Page - chaired by Charlie Lloyd
Panel discussion
This event has now finished.
Date and time:

Sunday 11 June 2023, 4pm to 5.30pm

Location:

In-person only
Ron Cooke Hub, Campus East, University of York (Map)

Admission:

Free admission, booking required
Event details
Join our panel as we compare and contrast the UK prison system with other approaches and alternative real-life examples, asking: do prisons work? And, once a prisoner is released, what is done to ensure the risk of reoffending is mitigated?
Seven out of ten prisoners report having mental health difficulties. One in three prisoners has a learning disability or difficulty. One in four prisoners grew up in the care system. Compared to white people, Black people are 53% more likely to be sentenced to prison in the crown court and Asian people are 55% more likely. (HM Chief Inspector of Prisons report: What happens to prisoners in a pandemic?)
Prison conditions, including access to work, libraries and exercise are still nowhere close to pre-pandemic levels, and violence and self-harm in prison is on the rise. Meanwhile Rishi Sunak recently announced that he wants to see more people in jail to make the streets safer for women and that he will invest in 10,000 more prison places over the next few years (Independent article: Sunak says he wants more people in jail to make streets safer for women). Keir Starmer is also promising tougher sentences to punish criminals and protect communities.
Yet, there is overwhelming evidence that our way of dealing with crime and those who offend does not work and there is also evidence that there is an alternative:
'For those who believe in a more humane method of punishment, the Nordic model is a no-brainer. But it should also be considered a viable option by those whose concerns include public spending and law and order. If this method of incarceration is proven to be more effective at reducing repeat offending, it must be part of the discussion about crime and punishment, free from soundbites. To be truly tough on crime means making tough decisions that don't feed into populist rhetoric and instead, focus directly and objectively on the data that would make our communities safer'. (Angela Kirwin)
Two thirds of Britons think that the sentences that courts hand down are not harsh enough (YouGov article: Criminal sentencing is too soft, say two-thirds of Britons). However, The Prison Reform Trust reported in 2022 that, for more serious, indictable offences, the average prison sentence is now 59.4 months, more than two years longer than in 2008.
Taking all this into consideration, our expert panellists ask: What will the effect of more people in our prisons really be, and what are the alternatives?
This event is part of the Festival Focus Reimagining Our Criminal Justice System. Why not attend related sessions on Criminal Justice: The state of the nation and Rebuilding: Policing and public trust?
Presented in collaboration with The Morrell Centre for Legal and Political Philosophy, which is generously supported by the C and JB Morrell Trust.
About the speakers
Alice Ievins is lecturer in Criminology at the University of Liverpool. She is interested in punishment and the ways it is (and isn't) related to justice. Much of her work has been about the imprisonment of men convicted of sex offences, and is based on interviewing and ethnographic work in prisons in England and Wales. Her recent book, The Stains of Imprisonment: Moral Communication and Men Convicted of Sex Offenses, draws on this work, and explores what being held in prison said to prisoners about who they were and what they had done.
As a working-class kid from Manchester with Irish roots, Angela Kirwin's political education started around the dinner table. Her earliest childhood memory is of being wheeled along in a pushchair, placard balanced on her lap, as her mum protested the closure of the local children's hospital.
As a young carer for her Gran, she learned to navigate the social care system and saw how vitally important it is for service users to have strong advocates. It was this experience that propelled her into a career in social care.
While studying politics and modern history in Manchester, and during her MSc in Social Work in Bristol, she worked in a variety of community social care roles before finding her passion for working in the areas of substance misuse and mental health. Inevitably, this work took her behind prison walls, working with men who were incarcerated. She believed that intervention prior to release could rehabilitate, change lives and change the world.
She went on to research trauma-informed approaches in the criminal justice system in Norway and the USA, thanks to the Churchill Fellowship, and has guest-lectured at the University of Bristol.
Angela left frontline work in 2016, disillusioned by a system that seems designed to destroy all hope of rehabilitation. Her debut non-fiction, CRIMINAL, shares the stories of the men she met while working in prison, highlights how our current system of incarceration is broken, and explains what we need to do to make the world a fairer, safer and more equitable place for all.
She is represented by Matilda Forbes-Watson at WME.
Justin Russell, HM Chief Inspector of Probation became Chief Inspector in June 2019. He was reappointed for a second term and recently announced that he will step down in September 2023. Justin's previous role, from 2016 to the beginning of 2019, was as Director General, Justice Analysis and Offender Policy at the Ministry of Justice. Justin started his career as a social researcher in the Home Office and has worked on a wide range of criminal justice issues including as a Senior Policy Adviser on home affairs in the No 10 Policy Unit and as Head of the Violent Crime Unit in the Home Office where he led the Ending Gang and Youth Violence Programme and the government's strategy on ending violence against women and girls. From 2012 to 2016 he was a Director at the Department for Work and Pensions where he led the production of the 2013 White Paper on state pension reform and was Director for disability employment and support.
Geoff Page is a lecturer in the University of York's School for Business and Society. Following an early adulthood of drug and alcohol dependence, serious mental illness and regular arrest, Geoff entered residential rehab and progressed to work as an addictions counsellor with a criminal justice caseload. He subsequently completed a doctorate on drug misusing arrestees with complex needs.
Geoff came to York to work on the National Evaluation of Pilot Drug Recovery Wings, a three-year study exploring a radical shift in Government policy, intended to get prisoners off drugs. In terms of outcomes, Drug Recovery Wings were not a huge success; and so, with an expert working group chaired by Lord Kamlesh Patel of Bradford, they subsequently worked on a series of costed blueprints setting out what could be done to achieve radical results with drug dependent prisoners, using currently-available policies and programmes.
Geoff has also worked on several other projects, most of them centred on drug (and particularly heroin) use. These include a study of the lives, resources and ambitions of people prescribed methadone for more than ten years, and an exploration of the policing of cannabis in North Yorkshire.
Charlie Lloyd (chair) has a background in criminology, undertaking research at the University of Cambridge and then the Home Office, focusing on prisons, probation and drugs. He then moved to the Joseph Rowntree Foundation, where he managed research programmes on young people, drugs and alcohol. In 2010 he moved to the Department of Health Sciences at the University of York, undertaking research and teaching on stigmatisation, drugs and alcohol. He joined the Social Policy and Social Work Department in 2017, to teach on criminal justice and substance use, and undertook research on drug users in prison and police responses to drug use. As part of the School for Business and Society, Charlie is now Co-Director of the ESRC Vulnerability and Policing Futures Research Centre - a major, five year ESRC investment in research into policing and vulnerability.
Partners