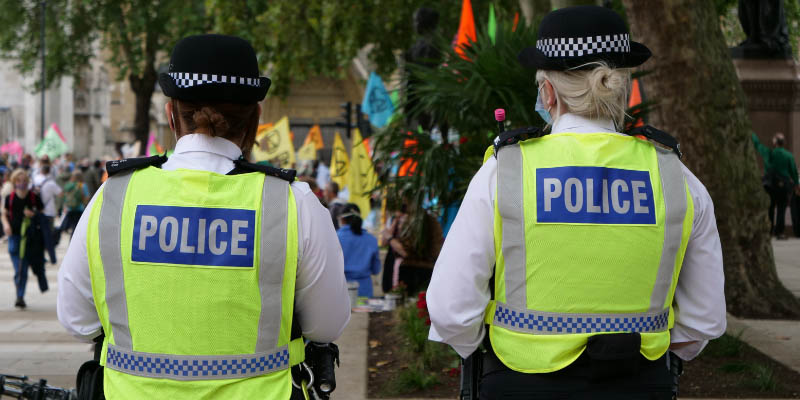 Rebuilding: Policing and public trust Ben Bradford, Sam Fowles, Justice Tankebe and Mirren Gidda
Panel discussion
Date and time:

Sunday 11 June 2023, 2pm to 3.30pm

Location:

In-person only
Ron Cooke Hub, Campus East, University of York (Map)

Admission:

Free admission, booking required
Event details
The policing model in the UK relies on the public's consent and trust. This trust is not only based on the police's competence in tackling crimes and maintaining public order, but also on how the public perceive that they are treated. The new policing act also means changes to the criminal justice system in areas including police powers, judicial procedures and offender rehabilitation as well as involving the police in controversial political issues such as the right to protest.
YouGov routinely asks the British public their confidence in the police to deal with crime in their local area, and in 2021, for the first time since they started asking people about these issues in 2019, more people are now unconfident in the police (48%) than confident (43%). (YouGov article: More Britons now unconfident than confident in the police to deal with crime locally)
In September last year the Victim's Commissioner for England and Wales resigned. Her resignation letter accused the government of downgrading victims' interests and side-lining the role, at the same time as the criminal justice system was 'in chaos'.
Join our panel as they explore the root causes of public mistrust as well as the importance of understanding how policing contributes and responds to vulnerability.
This event is part of the Festival Focus Reimagining Our Criminal Justice System. Why not attend related sessions on Criminal Justice: The state of the nation and Reimagining Punishment: Do prisons work?
Presented in collaboration with The Morrell Centre for Legal and Political Philosophy, which is generously supported by the C and JB Morrell Trust.
About the speakers
Ben Bradford is Professor of Global City Policing at the Jill Dando Institute of Security and Crime Science, University College London, where he is also Director of the Centre for Global City Policing. His research interests include public trust, police legitimacy, cooperation and compliance in justice settings, and social identity as a factor in all these processes. He has also published on organisational justice within police agencies, ethnic and other disparities in policing, and elements of 'public-facing' police work, such as neighbourhood patrol, community engagement and stop and search.
Sam Fowles is a barrister specialising in public and constitutional law, with experience of law in the UK, US, Australia and at the Council of Europe. He has worked on many of the most significant political cases of recent years. He regularly appears in the media, including on the BBC, Sky and Al Jazeera.
Justice Tankebe is Associate Professor of Criminology at the University of Cambridge, where he is the Deputy Director of the Institute of Criminology. His research concerns police legitimacy, police-community relations, violence and corruption. He received his Ph.D. in Criminology from the University of Cambridge. Prior to his current appointment, he held a British Academy Postdoctoral Fellowship, and he was a teaching associate on the Cambridge Police Executive Programme at the Institute of Criminology, University of Cambridge.
Mirren Gidda is an award-nominated investigative journalist with Liberty Investigates, an independent journalism unit based at the human rights organisation, Liberty. Since helping set up Liberty Investigates in 2019, Mirren has reported extensively on the criminal justice system, particularly policing. She exposed serious ethnic disproportionality in the police's coronavirus fines, resulting in her giving evidence to the Home Affairs Select Committee, whilst her article about the Met abandoning its decision to record the ethnicity of people subject to vehicle stops resulted in the force issuing a reversal a day later. Her latest findings, which revealed disproportionate strip searches of Black female children, were put directly to Met Commissioner Mark Rowley in a Channel 4 interview. Mirren began her career on the BBC's prestigious Journalism Training Scheme before moving to Newsweek magazine where she reported on conflict and human rights abuses from countries worldwide, securing six cover stories. She left Newsweek to present an episode of Channel 4's award-winning investigative series Unreported World, before studying for her MA in Terrorism, Security and Society. Mirren then worked as the storytelling and digital media manager at the international human rights organisation The Syria Campaign, before moving to Liberty Investigates.
Partners