Skip to Content
Accessibility statement
About the festival

York Festival of Ideas 2018 will take place from 5 to 17 June under the banner of
Imagining the Impossible.

With mostly free events, including talks, performances and exhibitions, the Festival delivers events for all ages and interests. Keep a look out for the 2018 programme in Spring 2018!

York Festival of Ideas is made possible through the generous support of a range of sponsors and partners.

York Festival of Ideas 2017 Brochure (PDF , 13,178kb)‌‌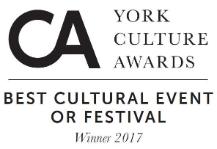 Visiting York?

Planning a visit to York? Plan ahead by viewing the online version of the York Visitor Guide 2018 with full information and tips on places to eat, stay and explore.

Visit the website to find out more.
Explore 2017
Subscribe to our mailing list

Be the first to hear about upcoming events as they're made available by joining our mailing list.
Twitter updates