Archives Blitz-It: The city in print
Event details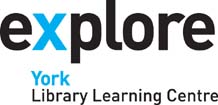 Explore York Archives is offering a chance to get hands-on with some of York's amazing local history collections, including historical material printed in York itself. The Archives holds around 60,000 local history items, including pamphlets, photographs, newspapers and maps.
You are invited to join archives staff as they sort and repackage part of the collection – local history pamphlets - in preparation for cataloguing. No experience is necessary - just bring your enthusiasm!
This free event will run all week, so please state your preferred day when booking. Participants will be given an hour for lunch in the middle of the day.