We Are the Dreamers of Dreams

David Pipe and York Musical Society/span>
Event details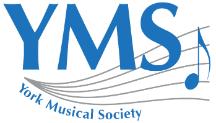 'We are the music makers, and we are the dreamers of dreams …' York Musical Society sings Elgar's setting of O'Shaughnessy's poem The Music Makers, together with Brahms' Schicksalslied (Song of Destiny) at this open rehearsal. Come along and hear the choir rehearse with conductor David Pipe for a Jubilee Concert on Sunday 24 June in Münster, Germany, marking the 50th anniversary of Münster Philharmonischer Chor.
The music has been chosen as a tribute to the long-standing partnership of these two large choirs, who first performed together 25 years ago in 1993. This event is a York preview and a chance to hear a complete run-through of these works, accompanied by piano.
Refreshments will be served afterwards.
About the performers
David Pipe, Principal Conductor of YMS, has led the choir since 2012. He was Assistant Director of Music at York Minster before moving in 2016 to the Diocese of Leeds, where he is Director of the Organists' Training Programme and Cathedral Organist.
York Musical Society (YMS) is one of York's largest choral societies, performing regularly in the Minster and at St Lawrence Church and York Barbican. Find out more here.
Tickets