Travels in Time, Fiction and Physics
Event details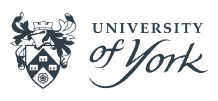 Is time travel possible? How realistic are science fiction ideas if you analyse them scientifically? Join maths and sociology researchers from the University of York to learn about ideas of time, paradoxes, and wormholes, and discuss how time travel is approached in physics and popular science fiction.
Come along and explore how imagination enables us to conceive the impossible and science helps us discern the possible.
Suitable for anyone aged 12+.
About the speakers
Chris Fewster is a Professor of Mathematics at the University of York and has worked on many aspects of mathematical physics including models of time-travel.
Dr Eleni-Alexandra Kontou is a Marie Skłodowska-Curie Fellow in Mathematics at the University of York. Her research interests include cosmological models and exotic spacetimes.
Dr Amanda Rees is a historian of science currently working on how the sciences are used to tell stories about the future.
Dr Sam Robinson is a historian working on social and political history of past visions of the future.
Tickets