Imagining a World without Food Waste

Joe Bennett, Carrie Bradshaw, Julieta Cuneo, Maggie Smallwood, David Ryan, Jessica Sinclair Taylor and Sue Hartley (Chair)/span>
Event details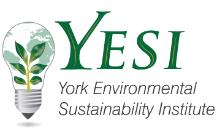 How can we move from our 'throwaway society' to a world without food waste? Our expert panel from industry, policy, academia and non-governmental organisations will discuss the challenges and opportunities of preventing food waste across the food supply chain from farm to fork.
Our panel includes Carrie Bradshaw of the University of York, Joe Bennett of the Biorenewables Development Centre, David Ryan of Toast Ale, Julieta Cuneo of Policy Connect, Maggie Smallwood of BioVale and Jessica Sinclair Taylor of Feedback. The event will be chaired by Sue Hartley, Director of the York Environmental Sustainability Institute at the University of York.
Come along and take part in our interactive audience Q&A. Afterwards, browse an accompanying exhibition which will showcase innovative products and processes created using surplus food waste, from functional foods and active packaging to biodegradable materials, fertilizers and biofuels. You can even try some soup made from surplus food!
About the speakers
Dr Joe Bennett is Senior Technologist at the Biorenewables Development Centre. (BDC). Joe has a background in protein chemistry with a broad skills portfolio developed over a number of years in research. He enjoys working in various areas of biology/biochemistry and has extensive experience in molecular biology, next generation sequencing, proteomics, protein expression and enzymology. Since joining the BDC, he has worked on a number of projects about adding value to manufacturing by-products and waste materials, working closely with small local companies, multinationals, national charities and academic institutions.
Dr Carrie Bradshaw is a Lecturer at the University of York. Carrie joined the York Law School in April 2013. Prior to this she was a Teaching Fellow whilst undertaking doctoral research, both at University College London. She was awarded my PhD on Corporations, Responsibility and the Environment in November 2013. In 2018, Carrie is a Parliamentary Academic Fellow, working with the Parliamentary Office of Science and Technology (POST) to support scrutiny of Government interventions to manage food waste and longer-term strategic thinking surrounding food resource management and food security post-Brexit.
Julieta Cuneo is Sustainability Manager at Policy Connect. Julieta joined Policy Connect in April 2018 as a manager of the All-Party Parliamentary Sustainable Resource Group. Originally from Buenos Aires, Argentina, she has a background in journalism and local government and has lived in Dublin, Bologna and Rome.
Before joining Policy Connect, she worked as a Team Coordinator for the International Relationship Development team at the Future Cities Catapult, and before that as a Communication Content Manager for the Buenos Aires Undersecretary of Creative Economy. She holds a BA in Publishing and an MA in Journalism from the University of Buenos Aires and the Torcuato di Tella University respectively, as well as an MSc in Sustainable Cities from King's College London.
Sue Hartley is Professor of ecology at the University of York and Director of the York Environmental Sustainability Institute (YESI), a pioneering interdisciplinary research partnership generating solutions to global environmental challenges. Sue is also the University of York's Research Champion for Environmental Sustainability and Resilience. Sue served as President of the British Ecological Society (2016-2017) and she is a Trustee of the Royal Botanic Gardens, Kew and a member of the Natural England Board. In 2009 she delivered the Royal Institution Christmas Lectures, becoming only the fourth woman to do since they began in 1825.
David Ryan is Customer Relationship Manager for Toast Ale. David has a background in retail, joining Waitrose as a graduate, progressing to store manager, and latterly managing business change projects. He joined Toast in 2017 to manage relationships with a fast-growing list of stockists around the UK.
Jessica Sinclair Taylor is Head of Communications and Policy, at Feedback,an environmental charity campaigning for a food system that nourishes the planet rather than depleting it. An alumnus of York University where she started out her career in activism with Amnesty International, Jess has worked on a variety of campaigns including women's rights, child poverty in the UK and international development, before turning to Feedback's task of ensuring everyone has access to nutritious and delicious food, without trashing the planet in the process.
Dr Maggie Smallwood is CEO of BioVale. Maggie took a degree in Biochemistry and Microbiology as a mature student at the University of Leeds in the UK, followed by a PhD in Plant Science. She worked as Research Manager at a spin-out company in the early 90s and then joined the University of York to develop and manage large strategic research collaborations with industry focused on high-value compounds from plants. She helped conceive and manage a project funded by the Bill and Melinda Gates Foundation that was successful in developing a variety of the medicinal plant, Artemisia annua that is now used in production of artemisinin for treating malaria in the developing world.
In 2014 Maggie joined with colleagues in industry, local government and academia to start the BioVale Innovation Cluster and was appointed as the CEO. This promotes Yorkshire and the Humber as a thriving centre of successful innovation for the bioeconomy and helps regional enterprise profit from the valuable business opportunities in this high growth sector. The cluster has a focus on value from biowastes and by-products of agri-food supply chains, high-value chemicals and advanced fuels from plants and microbes and fosters smart collaboration between agri-technology and industrial biotechnology.
Tickets