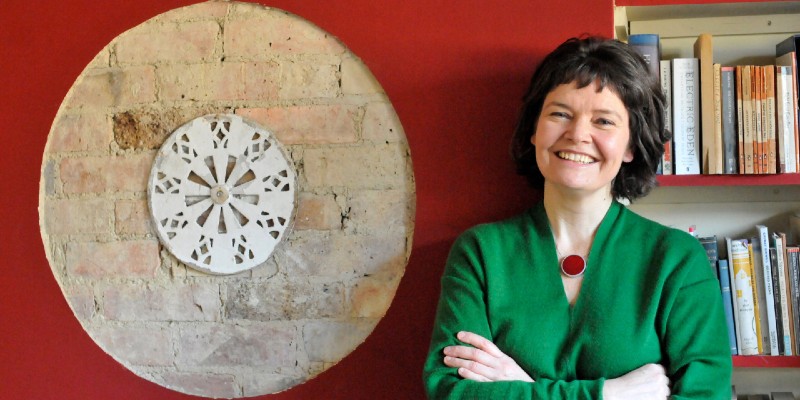 Exploring Doughnut Economics Kate Raworth
Talk
Date and time:

Friday 11 June 2021, 1pm to 2pm

Location:

Online

Admission:

Free admission, booking required
Event details
Unforeseen financial crises. Extreme wealth inequality. Relentless pressure on the environment. Can we go on like this? Is there an alternative?
Economist Kate Raworth, author of the internationally acclaimed Doughnut Economics, offers a radical re-envisioning of the system that has brought us to the point of ruin. She is joined in conversation by Miatta Fahnbulleh, Chief Executive of the New Economics Foundation, who has a wealth of experience in developing and delivering policy to empower communities and change people's lives.
Discover how we can bring humanity into a sweet spot that meets the needs of all within the means of the planet.
Our event will begin with an introduction by Danielle Walker Palmour, Director of the Friends Provident Foundation. Under her leadership, the Foundation has built an international reputation for innovative funding and investment practice and is at the forefront of rethinking the role of philanthropic resources in the UK.
Presented in collaboration with the Friends Provident Foundation
This event is hosted live on Zoom Webinar. You'll receive a link to join a couple of days before the event takes place and a reminder an hour before. During the event, you can ask questions via a Q&A function but audience cameras and microphones will remain muted throughout.
Exploring Doughnut Economics is part of a series of events presented under the theme of 'Levelling Up the Economy' with the support of the Friends Provident Foundation. You may also enjoy Levelling Up the Economy on Wednesday 16 June and Green Growth and Community Wealth Creation on Thursday 17 June.
Image credit: Roman Krznaric
Book sales
You can buy copies of many of our speakers' books from Fox Lane Books, a local independent bookseller and Festival partner. In some cases, author signed bookplates are available too.
About the speakers
Kate Raworth is an economist focused on making economics fit for the 21st century. Her book Doughnut Economics: seven ways to think like a 21st century economist is an international bestseller that has been translated into 20 languages, and was long-listed for the 2017 Financial Times & McKinsey Business Book of the Year award. She is co-founder of Doughnut Economics Action Lab, working with cities, business, communities, governments and educators to turn Doughnut Economics from a radical idea into transformative action. She teaches at Oxford University's Environmental Change Institute and is Professor of Practice at Amsterdam University of Applied Sciences.
Miatta Fahnbulleh is Chief Executive of the New Economics Foundation (NEF). She has been at the forefront of generating new ideas on reshaping our economy inside government and out. Prior to joining NEF she was Director of Policy & Research at the Institute of Public Policy Research. Before this, she has worked at senior levels for the Leader of the Opposition, the Cabinet Office, and the Prime Minister's Strategy Unit. Her work has included the development of policies from devolution to local economic growth, housing, energy and climate change and transport, driving forward the Government's economic devolution agenda in England, and localism and local economic growth. Miatta has a Masters and PhD in economic development from the LSE and a BA in PPE from Oxford.
Danielle Walker Palmour was the founding Director of Friends Provident Foundation. She has occupied senior policy and research roles throughout the non-governmental sector such as the Joseph Rowntree Foundation, the Commission for Racial Equality and the Law Society of England and Wales. She has served as in an advisory role as a member of the Treasury's Financial Inclusion Taskforce, the Civil Society Advisory Body of the Cabinet Office and the Financial Services Authority Financial Capability Steering Group. She is currently a board member of the National Lottery Community Fund, a Trustee of Britain Yearly Meeting (Quakers), holds advisory roles related to the University of York, UK and is a trustee of local York charities.
Partners