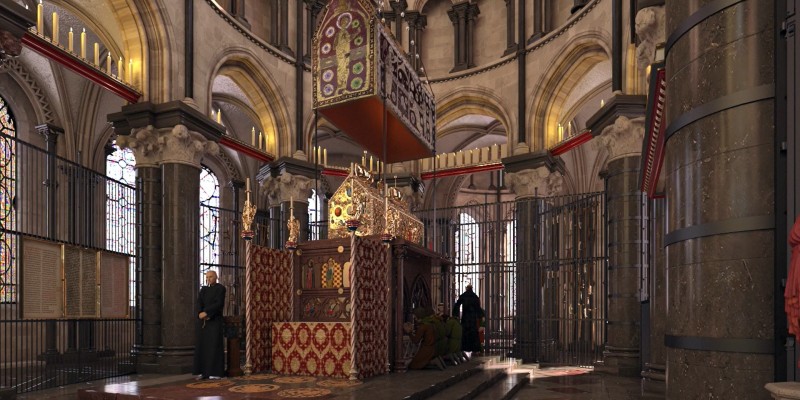 Experiencing Pilgrimage, Past, Present and Future Dee Dyas
Talk
Date and time:

Sunday 13 June 2021, 4pm to 4.40pm

Location:

Online

Admission:

Free admission, booking required
Event details
What role do the senses play in the experience of pilgrimage and sacred places, past and present? How can 3D visualisations help bring medieval pilgrim experience to life?
In the first part of our two-part series, 'Pilgrimage Past and Present', Dee Dyas, author of The Dynamics of Pilgrimage, will discuss how human beings have engaged with special places from the beginnings of the Judaeo-Christian tradition to the resurgence of interest evident in 21st century England.
Dee's talk is also an opportunity to find out how the University of York is using new historical research and archaeological evidence, to inform 3D visualisations of the sensory experiences of pilgrimage. She will explain how the AHRC-funded 'Pilgrimage and England's Cathedrals' and 'Becket Connection' projects resulted in new evidence being used to reconstruct pilgrim experience at the medieval shrine of St Thomas Becket in Canterbury Cathedral.
This is a YouTube Premiere event. You'll be sent a link to the screening a couple of days before it takes place, as well as a reminder an hour before. Following the screening, this event will be available to Watch Again on YouTube throughout the Festival.
Why not join us for the second event in this series, Experiencing Pilgrimage, Past and Present: Live Q&A, on Sunday 20 June, when Dee Dyas will be joined in conversation by archaeologist Kate Giles.
Image credit: A digital reconstruction of pilgrims at the shrine of St Thomas Becket in the Trinity Chapel of Canterbury Cathedral, c. 1408, The Centre for the Study of Christianity and Culture, University of York, 2020.
Book sales
You can buy copies of many of our speakers' books from Fox Lane Books, a local independent bookseller and Festival partner. In some cases, author signed bookplates are available too.
About the speaker
Dr Dee Dyas is Reader in the History of Christianity and Director of the Centre for the Study of Christianity and Culture and the Centre for Pilgrimage Studies at the University of York. She is author of the recently-published The Dynamics of Pilgrimage and co-editor of Pilgrimage and England's Cathedrals, Past and Present. Dee recently led a large three-year Arts and Humanities Research Council funded project on 'Pilgrimage and England's Cathedrals, past and present.' She also received AHRC follow on-funding for a project working with partners in Canterbury and London to use the 2020 Thomas Becket anniversary as a catalyst to enhance heritage, tourism, and community engagement. Dee also oversees Christianity and Culture's wide-ranging programme of research-based heritage interpretation partnerships with cathedrals, churches and other institutions.
Partners