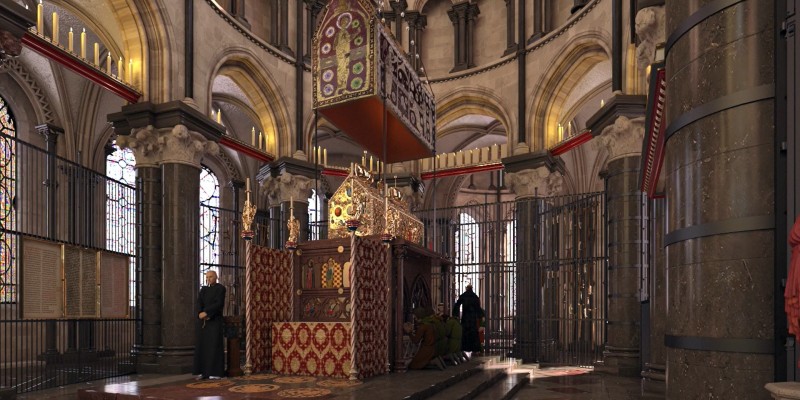 Pilgrimage Past and Present: Live Q&A Dee Dyas and Kate Giles
Talk
Date and time:

Sunday 20 June 2021, 4pm to 5pm

Location:

Online

Admission:

Free admission, booking required
Event details
Discover how 3D visualisations are opening up new ways of experiencing pilgrimage, including the shedding of new light on Thomas Becket and the cult site of Canterbury.
In the second part of our two-part series, 'Pilgrimage Past and Present', archaeologist Kate Giles and Dee Dyas, author of The Dynamics of Pilgrimage, discuss the University of York's trailblazing work in improving our knowledge and sensory experience of pilgrimage past and present.
This is an opportunity to find out more about how the AHRC-funded project 'The Becket Connection - Visualising Medieval Canterbury', resulted in new evidence being used to create a reconstruction of the medieval shrine of Saint Thomas Becket, which was destroyed during the reformation.
Join Dee and Kate live for this in-conversation event.
This event is hosted live on Zoom Webinar. You'll receive a link to join a couple of days before the event takes place and a reminder an hour before. During the event, you can ask questions via a Q&A function but audience cameras and microphones will remain muted throughout.
To get the most out of this event, we'd recommend watching the first part of the 'Pilgrimage Past and Present 'series, Experiencing Pilgrimage, Past, Present and Future, which will be premiered on Sunday 13 June and then available to Watch Again on YouTube.
Image credit: A digital reconstruction of pilgrims at the shrine of St Thomas Becket in the Trinity Chapel of Canterbury Cathedral, c. 1408, The Centre for the Study of Christianity and Culture, University of York, 2020.
About the speakers
Dr Dee Dyas is a Reader in the History of Christianity and Director of the Centre for the Study of Christianity and Culture and the Centre for Pilgrimage Studies at the University of York. She is the author of The Dynamics of Pilgrimage and co-edited Pilgrimage and England's Cathedrals. Dee recently led a large three-year Arts and Humanities Research Council funded project on 'Pilgrimage and England's Cathedrals, past and present.' She also received AHRC follow on-funding for a project working with partners in Canterbury and London to use the 2020 Thomas Becket anniversary as a catalyst to enhance heritage, tourism, and community engagement. Dee also oversees Christianity and Culture's wide-ranging programme of research-based heritage interpretation partnerships with cathedrals, churches and other institutions.
Dr Kate Giles is a Senior Lecturer with the University of York's Department of Archaeology. A buildings archaeologist, she specialises in the recording, archival research and theoretical interpretation of historic buildings. She is particularly interested in communal buildings of the medieval and modern periods, from guildhalls to parish churches, and how we tell their stories in ways that inspire interest and encourage people to visit and care for them today. Kate is a Fellow of the Society of Antiquaries, a Trustee of York Civic Trust and the Yorkshire Historic Churches Trust and former Council member of the Society for Medieval Archaeology and Society for Post-Medieval Archaeology. In 2019 she was appointed Honorary Visiting Professor at the University of Aarhus.
Partners