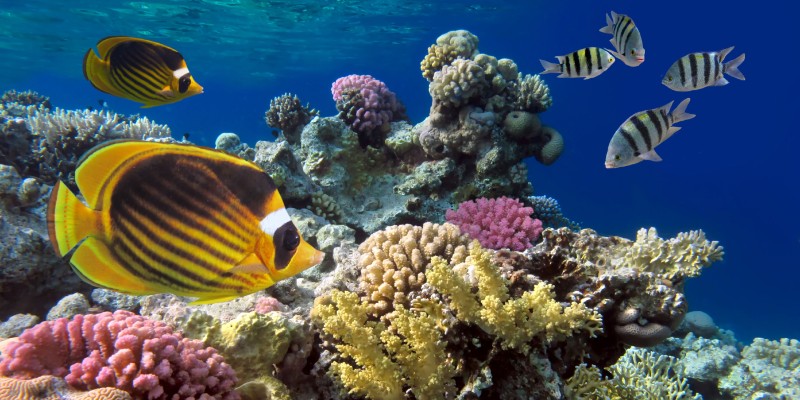 Protecting the Oceans to Preserve the Climate Ambassador Olivier Poivre d'Arvor, Chris Bowler, Françoise Gaill and Bryce Stewart
Talk
This event has now finished.
Date and time:

Sunday 13 June 2021, 1pm to 2.30pm

Location:

Online only

Admission:

Free admission, booking required
Event details
What is the role of the oceans in climate change?
As we head towards COP26, our expert panel of speakers from France and the UK look at the urgent need to protect the oceans to preserve the climate.
Organised by the French Embassy in the UK, the event will focus on scientific approaches to tackling climate change and protecting marine diversity, and examine what actions are required. Speakers include biologist Françoise Gaill; marine ecologist and fisheries biologist, Bryce Stewart; French Ambassador for the Poles and Maritime Issues, Olivier Poivre d'Arvor; and the CNRS Director of Research at the Institut de Biologie de l'Ecole Normale Supérieure in Paris, Chris Bowler.
Join us and find out more about oceans and climate change as the world prepares for the UN Climate Change Conference UK 2021 taking place in Glasgow from 1 to 12 November.
This event is hosted live on Zoom Webinar. You'll receive a link to join a couple of days before the event takes place and a reminder an hour before. During the event, you can ask questions via a Q&A function but audience cameras and microphones will remain muted throughout.
This is one of two events presented by the French Embassy in the UK exploring important contemporary issues. You may also enjoy Women's Bodies: Gaining control on Sunday 20 June.
About the speakers
Professor Chris Bowler is the CNRS director of research at the Institut de Biologie of École Normale Supérieure of Paris, as well as a visiting Professor at the College de France, occupying the "Biodiversity and ecosystems" chair. After graduating from Warwick University in 1986, he completed a PhD at the University of Ghent in Belgium, under the supervision of Professor Marc Van Montagu and Professor Dirk Inzé, themselves pioneers in plant molecular biology. His PhD studies completed, Chris pursued postdoctoral studies at the Rockefeller University in New York, before establishing his own research group at the Stazione Zoologica in Naples, Italy. He currently studies the biology of plants and a group of marine phytoplankton known as diatoms, using genomics approaches. Since 2009, he has been scientific coordinator of the Tara Oceans expedition and scientific director of the Tara Oceans Polar Circle expedition, which enabled him to perform a worldwide analysis of plankton in the global ocean using high-throughput DNA sequencing and cellular imaging approaches. He is also a member of the Radcliffe Institute at Harvard University, a leading interdisciplinary research institute, where he is exploring ancient DNA from diatoms in sediments accumulated over the millenia on the seafloor. From his studies, he hopes to learn how diatoms were affected by past environments, thus helping to understand how they will be affected by climate change in the future. Chris has been an EMBO member since 1995, was the recipient of a CNRS Silver Medal in 2010, ERC Advanced Grants in 2011 and 2018, and the Grand Prix Scientifique of the Fondation Louis D. from the Institut de France in 2015.
Dr Françoise Gaill is a biologist focusing on marine biodiversity research and is particularly interested in deep water environments and adaptations to extreme environments. Françoise has served on several boards and scientific councils for national and international research organisations. She has overseen research and innovation at the "Grenelle de la mer" and was President of the scientific and strategic committee of the large-scale infrastructure French Oceanographic Fleet. She was Vice President of the Alliance Allenvi, a national research consortium dedicated to environmental sciences and is now scientific advisor for the National Center for Scientific Research, Institute of Ecology and Environment. She is Chair of the national committee for marine and coastal research (COMER) and is Vice Chair of the French delegation of the Intergovernmental Oceanographic Committee of UNESCO. She is also coordinator of the scientific committee of the Ocean Climate Platform, and participates in various committees dedicated to biodiversity and/or marine research. She was Vice Chair of the French Agency for Biodiversity (AFB), and is chairing of the scientific council of the Fondation de la mer. This scientist has represented France in several United Nations negotiations, such as the Word Ocean Assessment, UN reports on the Sustainable Development Goals, especially Goal-14, which is dedicated to the oceans, and the BBNJ Preparatory Committee.
Ambassador Olivier Poivre d'Arvor is a diplomat, cultural official, maritime specialist, and author. After philosophy studies, he became involved in the cultural sector. He was literary advisor for publishing companies, literary journalist, actor and stage actor. His dedication in promoting culture led him to launch, in Toulouse, the first Marathon des Mots, to which he held presidency in 2005. Ambassador Olivier Poivre d'Arvor has always heartly combined both diplomacy and culture; from 2010 to 2015, he was the Director of Radio France Culture and was also the head of the Association Française d'action artistique (AFAA), an organization in charge of promoting French culture worldwide. He then became ambassador for France's Cultural Attractiveness and was nominated Ambassador of France in Tunisia from 2016 to 2020. His enthusiasm and passion for oceans and maritime issues led him to the presidency of the National Navy Museum in 2014. He founded the Saison Bleue, an association promoting the sustainable blue economy, particularly in the Mediterranean region, and the Forum Mondial de la Mer in Bizerte, with the help of Pascal Lamy. In December 2020, he was appointed Ambassador for the Poles and Maritime Issues. In 2005, he was knighted to Chevallier de l'Ordre National de la Légion d'Honneur, by late President Jacques Chirac. He is also Officier de l'Ordre des Arts et des Lettres and member of the Royal Victorian Order of the United Kingdom.
Dr Bryce Stewart is a Senior Lecturer in the Department of Environment and Geography at the University of York, UK. A marine ecologist and fisheries biologist, his work has ranged from temperate estuaries to tropical coral reefs and the deep-sea. The central thread in his research has been to gain an increased understanding of the factors regulating marine populations and communities so as to ensure their sustainable utilisation. His work on deep-sea fishes was among the first to demonstrate their extreme longevity, and on coral reefs he provided new evidence for mechanisms of community regulation of prey fish by predators. More recently his focus has been on how to improve the management of fisheries through the use of predictive recruitment models, marine protected areas and stock enhancement. Bryce also actively promotes sustainability within the seafood industry by working with everyone from government ministers to fishermen, restaurants and supermarket chains. Since 2016 he has been particularly involved with assessing the effects of Brexit on UK fisheries and the marine environment, and helping to plan for future reform of management by working with a wide range of stakeholders and the Government.
Partners