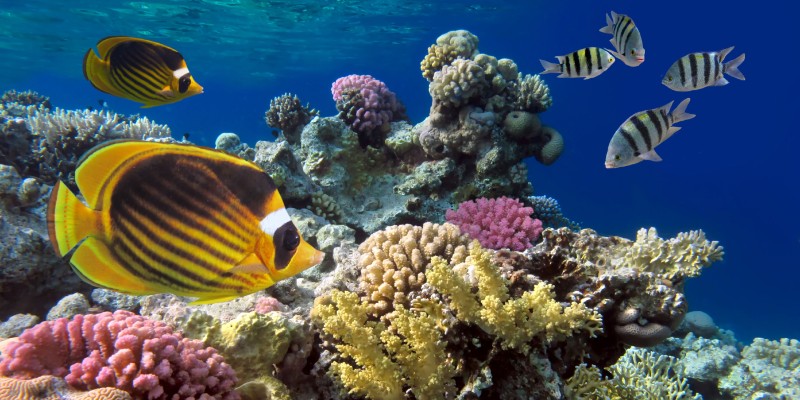 Protecting the Oceans to Preserve the Climate Bryce Stewart and Françoise Gaill
Talk
Date and time:

Sunday 13 June 2021, 1pm to 2.30pm

Location:

Online

Admission:

Free admission, booking required
Event details
What is the role of the oceans in climate change?
As we head towards COP26, our expert panel of speakers from France and the UK look at the urgent need to protect the oceans to preserve the climate.
Organised by the French Embassy in the UK, the event will focus on scientific approaches to tackling climate change and protecting marine diversity, and examine what actions are required. Speakers include biologist Françoise Gaill, and marine ecologist and fisheries biologist Bryce Stewart.
Join us and find out more about oceans and climate change as the world prepares for the UN Climate Change Conference UK 2021 taking place in Glasgow from 1 to 12 November.
This event is hosted live on Zoom Webinar. You'll receive a link to join a couple of days before the event takes place and a reminder an hour before. During the event, you can ask questions via a Q&A function but audience cameras and microphones will remain muted throughout.
This is one of two events presented by the French Embassy in the UK exploring important contemporary issues. You may also enjoy Women's Bodies: Gaining control on Sunday 20 June.
About the speakers
Dr Bryce Stewart is a Senior Lecturer in the Department of Environment and Geography at the University of York, UK. A marine ecologist and fisheries biologist, his work has ranged from temperate estuaries to tropical coral reefs and the deep-sea. The central thread in his research has been to gain an increased understanding of the factors regulating marine populations and communities so as to ensure their sustainable utilisation. His work on deep-sea fishes was among the first to demonstrate their extreme longevity, and on coral reefs he provided new evidence for mechanisms of community regulation of prey fish by predators. More recently his focus has been on how to improve the management of fisheries through the use of predictive recruitment models, marine protected areas and stock enhancement. Bryce also actively promotes sustainability within the seafood industry by working with everyone from government ministers to fishermen, restaurants and supermarket chains. Since 2016 he has been particularly involved with assessing the effects of Brexit on UK fisheries and the marine environment, and helping to plan for future reform of management by working with a wide range of stakeholders and the Government.
Partners