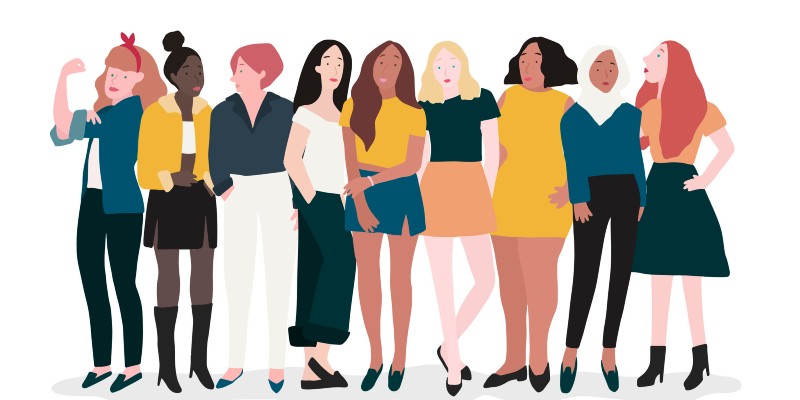 Women's Bodies: Gaining control Ellen Annandale, Elinor Cleghorn, Marie-Hélène Lahaye, Martin Winckler and Pragya Agarwal (Chair)
Panel discussion
This event has now finished.
Date and time:

Sunday 20 June 2021, 2.30pm to 4pm

Location:

Online only

Admission:

Free admission, booking required
Event details
Struggles over women's rights to sexual and reproductive health have been central in advancing women's human rights in general. They remain, even in France and the UK, challenged and contested in ways that have often thwarted the genuine advance of legal equality.

At an event organised by the French Embassy in the UK, our expert panel of speakers will discuss what remains to be done for girls and women to gain full possession of their sexual and reproductive rights, and the expected impacts on their health and wellbeing.
Held in the run up to the Generation Equality Forum in Paris from 30 June to 2 July, our panel will explore how these rights are being enacted across the globe, from developing countries to Europe.
Our speakers include Elinor Cleghorn, author of Unwell Women: Misdiagnosis and Myth in a man-made world, a trailblazing conversation-starting history of women's health; Ellen Annandale of the University of York, UK, whose research focuses on gender inequalities in health and women's reproductive healthcare; Marie-Hélène Lahaye, a Belgian lawyer who has been campaigning for a more respectful birth since 2013; and Martin Winckler, a French M.D. and short story, novel and essay writer, whose main topics are the French medical system, the relationships between caregivers and patients and women's health. The event is chaired by behavioural and data scientist Pragya Agarwal, author of Sway: Unravelling Unconscious Bias, and (M)otherhood: On the choices of being a woman.
Join in the conversation as we take stock of achievements, look at where progress has stalled and discuss where there is still much to be done.
This event is hosted live on Zoom Webinar. You'll receive a link to join a couple of days before the event takes place and a reminder an hour before. During the event, you can ask questions via a Q&A function but audience cameras and microphones will remain muted throughout.
This is one of two events presented by the French Embassy in the UK exploring important contemporary issues. You may also enjoy Protecting the Oceans to Preserve the Climate on Sunday 13 June.
About the speakers
Ellen Annandale is Professor of Sociology at the University of York, UK, where she was Head of Department between 2013 and 2017. She was awarded her PhD in Sociology from Brown University USA and has Honorary Doctorate from Umeä University, Sweden. She is Chair of Trustees of the Foundation for the Sociology of Health and Illness, former Editor-in-Chief of the international journal Social Science & Medicine, and the present Coordinator of the European Sociological Association's Research Network on the Sociology of Health and Illness. Her research has focused on gender inequalities in health and women's reproductive healthcare. Her publications include Women's Health and Social Change (Routledge) and The Palgrave Handbook of Gender and Health (with Ellen Kuhlmann) (Palgrave). With colleagues at the University of York and two NHS Hospital Trusts, she has recently completed a research project funded by the National Institute of Health Research on Interactional Practices of Decision-making During Childbirth in Maternity Units.
Dr Pragya Agarwal
is a behavioural and data scientist, who has worked as a consultant and speaker for the United Nations, Environment Agency, NHS, UK Police Commissioners, Cabinet Office, US Defence Services, etc and various international universities such as Oxford, Cambridge, Columbia, Imperial College and so on. Pragya has held a Leverhulme Fellowship and senior academic positions in US and UK Universities for over 12 years. She has also held fellowships at University of California-Santa Barbara, University of Melbourne and Johns Hopkins University. Pragya is the author of a number of scholarly articles, and three non-fiction books and many articles for a general audience. Her book
Sway: Unravelling Unconscious Bias
was published in 2020 with Bloomsbury and was nominated one of best popular science books of 2020, Guardian Book of the Week and shortlisted for the Transmission Prize. Her book
Wish We Knew What To Say: Talking With Children about Race
was also published in 2020 with Dialogue Books and selected as Apple Book of the Month. Her next book
(M)otherhood: On the choices of being a woman
is out now with Canongate, and her next book will be out in July 2022, for which she has recently been awarded a Society of Authors Foundation Grant. Besides non-fiction books for adults, she has also recently written her first book for children
Let's Talk about Racism
that is out in August 2021 with Hachette. Her writing has appeared in
Guardian, Prospect, Forbes, Huffington Post,
BBC Science Focus, Scientific American, WIRED
and
New Scientist,
Wellcome Collection
, as well as magazines such as
Cosmopolitan, Stylist, Vogue, Elle
and so on. Her creative non-fiction writing also appears in a number of literary magazines. She is a two-time TEDx speaker, a TEDx Woman organiser, and has appeared as an expert on many international podcasts and shows such as NPR, BBC Women's Hour, BBC Radio 4 'The Spark' and Darren Brown's podcast 'The Bigoted Brain'. Pragya is a Fellow of the Royal Society of Arts.

ᐧ
Elinor Cleghorn has a background in feminist culture and history, and her critical writing has been published in several academic journals, including Screen. After receiving her PhD in humanities and cultural studies in 2012, Elinor worked for three years as a postdoctoral researcher at the Ruskin School of Art at the University of Oxford on an interdisciplinary arts and medical humanities project. She has given talks and lectures at the British Film Institute, where she has been a regular contributor to the education program, Tate Modern, and ICA London, and she has appeared on the BBC Radio 4 discussion show The Forum. In 2017, she was shortlisted for the Fitzcarraldo Editions Essay Prize, and she has since written creatively about her experience of chronic illness for publications including Ache (UK) and Westerly (AUS).
Since 2013,
Marie-Hélène Lahaye
, a Belgian feminist, lawyer, blogger and whistle-blower, has been campaigning for a more respectful birth. She is the author of the blog Marie accouche là (Marie gives birth there) which aims to explore feminist and political issues around birth, highlighting the gap between medical practices in maternity hospitals and scientific recommendations. She is the author Childbirth: Women deserve better (January 2018, Michalon editions) and has helped bring to light in the French-speaking world the issue of mistreatment of women during and around childbirth, under the term of obstetric violence.
http://marieaccouchela.net/
Martin Winckler (born Marc Zaffran, M.D., M.A.) is a French fiction and non-fiction writer. He was a practicing GP in France from 1981 to 2008, in a countryside setting and in the Women's Health center at the Le Mans Hospital. He was an Editor and Assistant Editor-in-Chief for the independent medical journal La Revue Prescrire from 1983 to 1989. Since 1989, he has published 15 novels including The Case of Dr Sachs (Seven Stories Press, NY, NY), several critical analyses of the medical establishment and medical training in France (Les Brutes en Blanc - Brutes in White Coats, 2016) and half a dozen medical information manuals for the general public addressing Contraception, Women's Health and Patients rights. His novel The Case of Dr Sachs (La Maladie de Sachs 1998) was adapted for the screen by Director Michel Deville (starring Albert Dupontel). He emigrated to Canada in 2009. He was a guest researcher at CREUM, the Ethics Research Center at the University of Montreal (QC). He was a writer in residence at McGill University (Montreal, QC) and Ottawa (ON) University. He led the "Poetry & Practice" group for students at McGill University from 2011 to 2019. He also co-animated the Medicine and Humanities program at the Faculty of Medicine of the University of Ottawa (ON) from 2015 to 2019. In 2021, his novel Le Choeur des femmes (The Women's Choir) was adapted as a graphic novel by feminist artist Aude Mermilliod.
Partners