Beginnings of Life: Campus wildlife tour

Gordon Eastham and Rachel Pateman/span>
Event details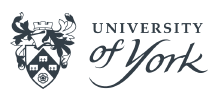 Join us for a guided tour of the University of York's Campus East and hear the story of its development for wildlife since its beginnings in 2008. Learn about – and hopefully see - the many plants and animals that now call this their home. The walk is led by Gordon Eastham, the University's Grounds Maintenance Manager, and Rachel Pateman, a researcher in biodiversity.
About the speakers
Gordon Eastham gained an HND in landscape and horticultural technology at Askham Bryan College, York. After working at the University of Leeds, he joined the University of York in 1994 as Supervisor of Grounds. He was heavily involved in the landscaping of the University's Campus East and is now the Grounds Maintenance Manager.
Rachel Pateman is a researcher in biodiversity at the University of York. She did her PhD in York's Biology Department, looking at how butterflies in the UK are responding to climate change. After this she moved to the Stockholm Environment Institute in the Environment Department where she has been studying the impacts of moorland management on craneflies (or daddy long legs), which are an important food resource for upland birds. Rachel is also engaging people in the natural world through participating in citizen science projects.
Tickets