Wastebusters' Fest
Event details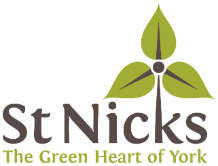 Ever wondered what happens to your rubbish and whether it's worth your effort to recycle? Come along to a day of fun, family-friendly activities redefining what waste is and what to do with it.
Everything in nature is reused or recycled, and circular economy does just that. This event gives you a chance to try it out by exploring an interactive display called The Story of 'Waste'. You can also bring your bike along to have it seen by Dr Bike from Eyup Cycling, enjoy a tasty lunch made by yourcafe from would-be-waste food, bring and exchange up to five items in a swap shop, browse the reclaimed book shop, learn new upcycling crafts or how to compost, and share your own tips.
Although there won't be any to try out on the day, you'll also learn how lasers are used in the recycling industry, and get a chance to pick up some waste-busting kit.
Join in busting waste out of York and giving all things a happy ever after story!
About St Nicks Environment Centre
St Nicks is York's centre for nature and green living. The Environment Centre is set within a 24-acre nature reserve just one mile from the city centre, off Hull Road. The mission of the St Nicks charity is to create lasting positive change in actions and attitudes of York residents to enable them to move towards a sustainable future. For further information visit www.stnicks.org.uk/