Buildings of Impossible Things
Event details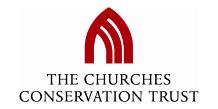 Explore some of York's beautiful and unique parish churches on a walking tour with the Churches Conservation Trust. Join us and learn how the supernatural and the impossible were imagined in the medieval mind and how this is beautifully reflected in the art, architecture and appearance of parish churches.
Nowadays parish churches tend to be overlooked. They sit down backstreets, off the beaten track, just outside town. In the medieval period, however, the parish church was the centre of the community, not just physically, but also mentally. Come along and learn more about York's hidden gems and examine the medieval understanding of the supernatural shown in these sacred spaces, helping us map the mental landscapes of the past.
You'll visit a number of parish churches in the centre of York and consider the role of churches in helping people make sense of the impossible. Find out how depictions of miracles, saints and prophecies in the parish church not only reflected, but also shaped medieval understandings of the supernatural.
The Churches Conservation Trust
Find out more about The Churches Conservation Trust here.
Tickets