The Future of UK Higher Education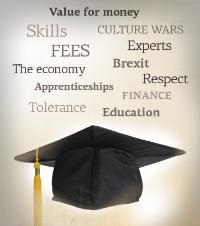 What are universities for? Who are they for? How do they enhance society? Our Focus Day, presented in collaboration with the UPP Foundation, takes an in-depth view of the value of UK universities, their place in the economy, university funding and the role of universities in post-Brexit Britain.
Expert speakers include Lord David Willetts, former Minister for Universities and Science; William Whyte, author of Redbrick: A Social and Architectural History of Britain's Civic Universities; Margaret Gardner, Vice-Chancellor of Monash University, Australia; Lee Elliot Major, Chief Executive of The Sutton Trust; Nicky Morgan MP, former Secretary of State for Education; and Amatey Doku, Vice President (Higher Education) of the National Union of Students.
You may also be interested in All Our Futures a public talk at Bootham School on Monday 11 June. How can we help prepare our young people to meet the demands, challenges and opportunities that face them? Book your ticket via the Bootham Box Office.
Friday 8 June
11.00am - 12 noon

Lord David Willetts, Executive Chair of the Resolution Foundation and former Minister for Universities and Science, and William Whyte, author of Redbrick: A Social and Architectural History of Britain's Civic Universities, put the issues into context. The session is introduced by Richard Brabner, Head of the UPP Foundation and chaired by Rosemary Bennett, Education Editor at The Times.

Speakers:

Lord David Willetts, former Minister for Universities and Science
William Whyte, author of Redbrick
Richard Brabner, UPP Foundation
Rosemary Bennett, The Times (Chair)
2.30pm - 3.45pm

Experts including Lee Elliot Major, Chief Executive of The Sutton Trust, Claire Crawford of the University of Warwick, Kate Barclay of the Institute for Apprenticeships and Andy Westwood of the University of Manchester, address the relationship between universities, skills training and social mobility. The session is chaired by David Beer of the University of York.

Speakers:

Kate Barclay, Institute for Apprenticeships
Claire Crawford, University of Warwick
Lee Elliot Major, The Sutton Trust
Andy Westwood, University of Manchester
David Beer, University of York (Chair)
6.00pm - 7.15pm

Speakers including Amatey Doku, Vice President (Higher Education) of the National Union of Students, Jack Britton of the Institute for Fiscal Studies, Lorenza Antonucci of the University of Birmingham and Diana Beech of the Higher Education Policy Institute explore university financing. The session is chaired by Kevin Maguire, Associate Editor of the Daily Mirror.

Speakers

Lorenza Antonucci, University of Birmingham
Diana Beech, Higher Education Policy Institute
Jack Britton, Institute for Fiscal Studies
Amatey Doku, National Union of Students
Kevin Maguire, Daily Mirror (Chair)
1.00pm - 2.00pm

Join Margaret Gardner, Vice-Chancellor of Monash University and Chair of Universities Australia, as she discusses education in the age of disruption and innovation with BBC Education Correspondent Sean Coughlan. What lessons can we learn from the Australian higher education sector?

Speakers:

Margaret Gardner, Monash University
Sean Coughlan, BBC (Chair)
4.15pm - 5.45pm

Following a keynote speech by Nicky Morgan MP, former Secretary of State for Education and Minister for Women and Equalities, our panellists discuss whether universities have lost public trust in the aftermath of Brexit and how they can better engage with the public. Our expert speakers include Paul Whiteley of the University of Essex, Clare Melhuish of UCL Urban Laboratory, Conor Gearty of the London School of Economics (LSE) and John Denham of the University of Winchester. The session is chaired by Louis Coiffait, Associate Editor at Wonkhe.

Speakers:

Nicky Morgan MP
John Denham, University of Winchester
Conor Gearty, LSE
Clare Melhuish, UCL Urban Laboratory
Paul Whiteley, University of Essex
Louis Coiffait, Wonkhe (Chair)