Re-imagining the City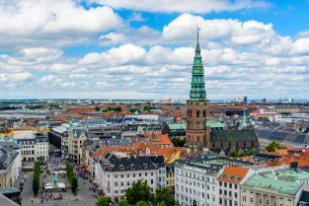 Which cities work and which don't? Why? How can we ensure good growth through design? Our special Focus Day, supported by the University of York through the Higher Education Innovation Fund (HEIF) and by York Science Park, explores the possibilities for 're-imagining the city'. Join us as our expert speakers discuss how architecture, technology and transport underpin urban living and how they impact on the environment, our lives, health and happiness.
Work at the University of York is focused around seven research themes which align our academic strengths to best meet the grand scientific, social and environmental challenges of our time. Learn more about the Environmental sustainability and resilience and Health and wellbeing research themes.
My York Central is interested in hearing your views on the future of York Central, York's largest brownfield development site. Take part in the My York Central Conversation and share your thoughts, explore ideas and help create a new part of York.
Sunday 17 June
12 noon - 6.00pm

Postgraduate students from the Kent School of Architecture, Canterbury present innovative visions for the city of York. Join them for a thought-provoking exhibition - 'Design for Galactic Life on Earth: How can architectural intervention be used to instigate change?'
2.30pm - 4.00pm

How do we create successful communities? Our speakers include housing policy expert Rebecca Tunstall of the University of York, David Rudlin of URBED and leading architects Riccardo Marini, Founder of Marini Urbanismo, Irena Bauman, Director of Bauman Lyons, and Clare Wright, Founding Partner at Wright & Wright Architects. The session is chaired by Sir Malcolm Grant, Chancellor of the University of York.

Speakers include:

Irena Bauman, Bauman Lyons Architects
Riccardo Marini, Marini Urbanismo
David Rudlin, Urbanism Environment and Design (URBED)
Rebecca Tunstall, University of York
Clare Wright, Wright & Wright Architects
Sir Malcolm Grant, University of York (Chair)
12 noon - 1.30pm

Our speakers, including Alison Brooks, Principal and Creative Director of Alison Brooks Architects, Stephen Joseph, Executive Director of Campaign for Better Transport; Harbinder Birdi, Head of Infrastructure and Transport at Hawkins\Brown and transport planner Paul Osborne, help us re-imagine city living.

Speakers include:

Alison Brooks,

Alison Brooks Architects

Harbinder Birdi, Hawkins\Brown
Efrat Blumenfeld-Lieberthal, Tel Aviv University
Stephen Joseph, Campaign for Better Transport
Paul Osborne, transport planner
4.30pm - 6.00pm

In the year that York was named 'the best place to live in Britain' in The Sunday Times, our Focus Day ends by re-imagining our own city of York. With a unique mix of heritage and hi-tech what is the plan to re-imagine this historic city? The session is introduced by Jon Timmis of the University of York.

Speakers include:

Bob Allies, Allies and Morrison
Francis Glare, BDP
Helen Graham, University of Leeds
Timothy Ireland , Kent School of Architecture
Andy Shrimpton, Cycle Heaven
Jon Timmis, University of York