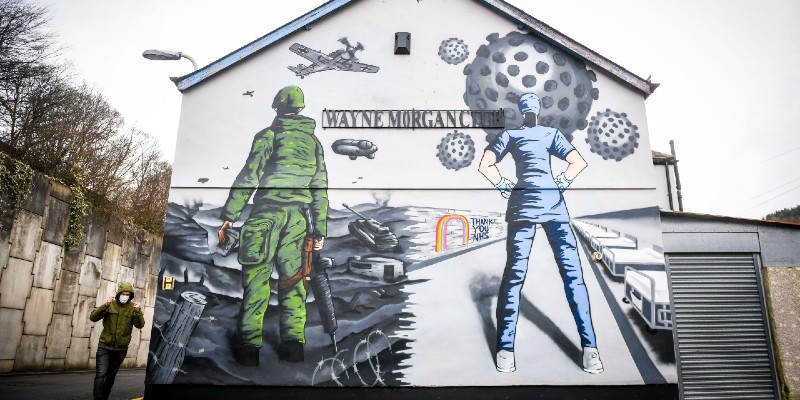 Narratives of Conflict and Warfare Franziska Kohlt, Tom McLeish and Amanda Rees
Panel discussion
This event has now finished.
Date and time:

Tuesday 15 June 2021, 1pm to 2.15pm

Location:

Online only

Admission:

Free admission, booking required
Event details
What were the 'Science Wars'? And what legacy have they left in the way we think about science, the humanities, the arts? Why would we 'follow the science' if we have been at war with it? And why has there recently been a huge resurgence in science-inspired poetry? This suggests that the Science Wars may be moving towards a much more productive Science Peace.
In recent months, there has been much talk about the 'war against Covid', 'frontline' staff, conceiving of the challenge posed by the novel coronavirus as warfare. While intended for raising morale, research in health communication has shown it more frequently has the opposite effect. As research on combat rhetoric in the context of climate change has shown, it more frequently polarises and divides, where it seeks to unite.
Join our expert panel of speakers as they explore the effects of warfare narrative in science, but also introduce new, more productive metaphors in effective and engaging science communication. Our speakers are Franziska Kohlt, a researcher in Science Communication, the History of Science, and Literature; Tom McLeish, a physicist and writer; and Amanda Rees, a historian of science. The team works together on the role of narrative within religious faith and science, within the Equipping Christian Leadership in an Age of Science (ECLAS) project.
This event is hosted live on Zoom Webinar. You'll receive a link to join a couple of days before the event takes place and a reminder an hour before. During the event, you can ask questions via a Q&A function but audience cameras and microphones will remain muted throughout.
Narratives of Conflict and Warfare is part of a series of events presented under the theme of 'Science, Imagination and the Big Questions' with the support of the John Templeton Foundation. You may also enjoy Extraterrestrial: Intelligent life beyond Earth on Friday 11 June; Science, Imagination and Poetry on Monday 14 June; and This Species Moment on Friday 18 June.
Image credit: Robert Melen / Alamy Stock Photo
Equipping Christian Leadership in an Age of Science (ECLAS)
The Equipping Christian Leadership in an Age of Science (ECLAS) project works across all church denominations in the UK to resource church leaders, their congregations, and seminaries, to engage with science and scientists fruitfully and in mutual support. ECLAS is funded by the Templeton Religion Trust.
Book sales
You can buy copies of many of our speakers' books from Fox Lane Books, a local independent bookseller and Festival partner. In some cases, author signed bookplates are available too.
About the speakers
Dr Franziska Kohlt is a researcher in Science Communication, the History of Science, and Literature, and an active science communicator with an interest in the socio-psychological history of what narratives make science communication effective. She has worked with the Royal Entomological Society, schools and museums, and appeared on national and international media to speak about the role of literature and narratives shaping public understandings of science. She is an expert on Lewis Carroll, editor of the Lewis Carroll Review, and a former translator for Marvel comics, and has published on a wide range of topics, from Fantastic Literature, Science and the history of psychology, to automata and insects.
Tom McLeish, FRS, is Professor of Natural Philosophy in the Department of Physics and also in the Centre for Medieval Studies and the Humanities Research Centre at the University of York, UK. He was elected to the Royal Society in 2011, currently sits on its Council, and chaired its Education Committee from 2014 to 2020. He has won awards in the UK, USA and EU for his interdisciplinary research in 'soft matter and biological physics,' and also works across science and humanities on medieval science, theology, sociology, and philosophy of science. As well as over 200 specialist articles, he has written books for a general audience, including Faith and Wisdom in Science, The Poetry and Music of Science and Soft Matter - A Very Short Introduction. He also regularly appears on BBC radio
Dr Amanda Rees is a historian of science based at the University of York. She works on the history of field sciences, narratives of science and religion, relationships between humans and other animals and the history of the future, and has published many academic and popular articles on these subjects. Currently, she is the editor of the British Journal of the History of Science, as well as a co-editor of the History of the Human Sciences, and her most recent book (with Charlotte Sleigh) was Human, published by Icon Books in 2020.
Partners