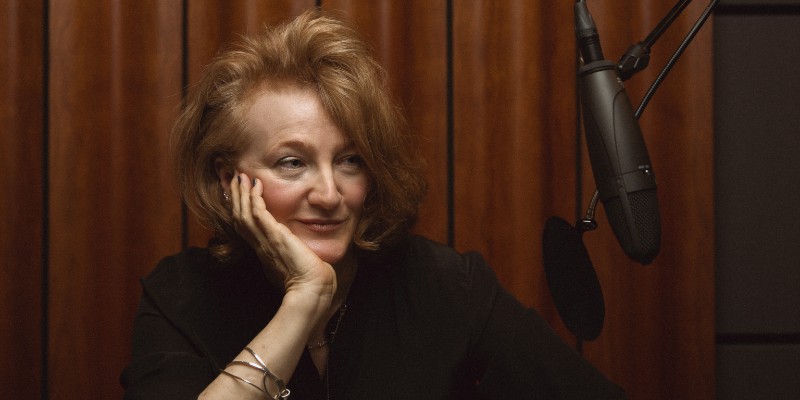 This Species Moment Krista Tippett and Tom McLeish (Chair)
Talk
This event has now finished.
Date and time:

Friday 18 June 2021, 8pm to 9pm

Location:

Online only

Admission:

Free admission, booking required
Event details
Each week the public radio show and podcast On Being with Krista Tippett presents a new discovery about the immensity of our lives. The show provides a space where people of different faiths, disciplines and ideologies can explore the great questions of meaning and morality without losing sight of each other's humanity.
On Being airs on more than 400 public radio stations across the United States and the podcast has been played/downloaded more than 300 million times. Join the show's host Krista Tippett, a Peabody Award-winning broadcaster, for an in-conversation event with Tom McLeish of the University of York.
This event is hosted live on Zoom Webinar. You'll receive a link to join a couple of days before the event takes place and a reminder an hour before. During the event, you can ask questions via a Q&A function but audience cameras and microphones will remain muted throughout.
This Species Moment is part of a series of events presented under the theme of 'Science, Imagination and the Big Questions' with the support of the John Templeton Foundation. You may also enjoy Extraterrestrial: Intelligent life beyond Earth on Friday 11 June; Science, Imagination and Poetry on Monday 14 June; and Narratives of Conflict and Warfare on Tuesday 15 June.
Book sales
You can buy copies of many of our speakers' books from Fox Lane Books, a local independent bookseller and Festival partner. In some cases, author signed bookplates are available too.
About the speakers
Krista Tippett is a Peabody-award winning broadcaster, National Humanities Medallist, and New York Times bestselling author. She founded and leads the On Being Project, a non-profit media and public initiative that pursues deep thinking and moral imagination, social courage and joy, towards the renewal of inner life, outer life, and life together. She hosts the On Being public radio show and podcast, which is carried on over 400 public radio stations across the USA, and the On Being podcast, which has been played/downloaded over 300 million times. She curates the Civil Conversations Project, an emergent approach to conversation and relationship across the differences of our age.
Krista grew up in a small town in Oklahoma, attended Brown University, became a journalist and diplomat in Cold War Berlin, and later received a Master of Divinity from Yale University. Her books are Becoming Wise: An Inquiry into the Mystery and Art of Living; Einstein's God, drawn from her interviews at the intersection of science, medicine, and spiritual inquiry; and Speaking of Faith, a memoir of religion in our time. President Obama awarded Krista the National Humanities Medal at the White House for "thoughtfully delving into the mysteries of human existence. On the air and in print Ms. Tippett avoids easy answers, embracing complexity, and inviting people of every background to join her conversation about faith, ethics, and moral wisdom." She is also the recipient of a Four Freedoms Medal of the Roosevelt Institute, and was a Mimi and Peter E. Haas Distinguished Visitor at Stanford University.
Tom McLeish, FRS, is Professor of Natural Philosophy in the Department of Physics and also in the Centre for Medieval Studies and the Humanities Research Centre at the University of York, UK. He was elected to the Royal Society in 2011, currently sits on its Council, and chaired its Education Committee from 2014 to 2020. He has won awards in the UK, USA and EU for his interdisciplinary research in 'soft matter and biological physics,' and also works across science and humanities on medieval science, theology, sociology, and philosophy of science. As well as over 200 specialist articles, he has written books for a general audience, including Faith and Wisdom in Science, The Poetry and Music of Science and Soft Matter - A Very Short Introduction. He also regularly appears on BBC radio.
Partners