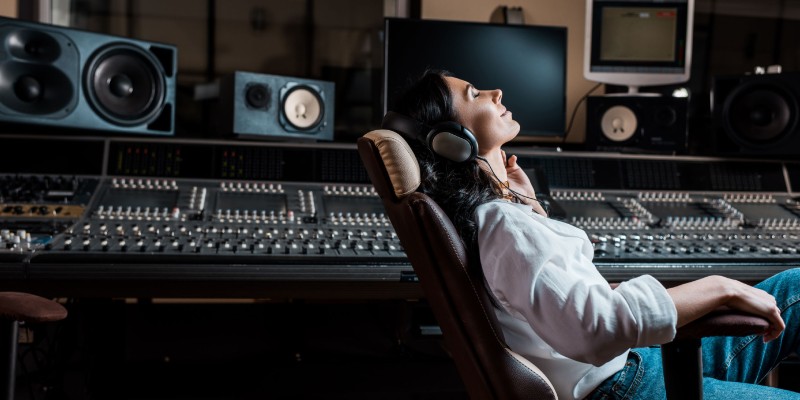 Music, Prevention and Self-care Karen Bloor, Anna Détári, Eva Bojner Horwitz, Naomi Norton, David Thyrén and Karen Burland-Clark (Chair)
Panel discussion
Date and time:

Tuesday 15 June 2021, 12pm to 1pm

Location:

Online

Admission:

Free admission, booking required
Event details
The health benefits of music for our own health and well-being are now widely-recognised. But how can those providing music for others care for themselves?
Our expert panel explores the tension between providing music for others' self-care and the self-care of the musicians themselves. Why is it that musicians and artists are more likely than most to suffer with mental health issues? Is it due to the pressures put upon them professionally and artistically? And what can be done to help those providing the music to improve their own self-care?
This event is part of our Music and Prevention series, which brings together practitioners and academics from fields including music, psychology, sociology, therapy, well-being, prisons and education.
You may also be interested in the other two events in this series: Music, Prevention and Youth Justice on Wednesday 9 June and Music, Prevention and Public Health on Friday 11 June.
This is a YouTube Premiere event. You'll be sent a link to the screening a couple of days before it takes place, as well as a reminder an hour before. You can ask Craig Robertson, the curator of this event, your questions live in the YouTube chat throughout the stream.
About the speakers
Karen Bloor is Professor of Health Economics and Policy at the University of York, UK, and the University's Research Champion for Health and Wellbeing. She has worked at York for over 25 years, focusing particularly on the application of economics to health policy. Her research covers a range of subjects relating to the financing and delivery of healthcare, including analysis of medical labour markets, medical practice variations, pharmaceutical markets and various aspects of healthcare reform.
Professor Karen Burland-Clark is Head of Music at the University of Leeds. She has published book chapters and journal articles focusing on musical development, musical identities, the transition between higher education and performance/non-performance professions, audience participation in live events, and the benefits of music technology in music therapy. She is currently a University Student Education Fellow and is leading projects which explore student perceptions of, and engagement with, their employability. She is an active performer and is principal clarinet with Hallam Sinfonia, and plays baritone saxophone with Saxsational saxophone quartet.
Anna Détári holds her Bachelor and first Masters degree from flute performance from the Liszt Academy of Music, Budapest and the University of Pecs, Hungary. Following her interest in musicians' health and wellbeing, she completed MSc in Performance Psychology with distinction at the Royal College of Music and continued her studies as a PhD candidate at the University of York, UK. Anna's research examines a rare task-specific neurological disorder affecting professional musicians, Musician's Focal Dystonia, from a holistic viewpoint and is funded by the Arts and Humanities Research Council of the United Kingdom and the Music Department at the University of York.
Dr Eva Bojner Horwitz is Professor of Music and Health at the Royal College of Music in Stockholm and researcher in the Department of Clinical Neuroscience Karolinska Institute (KI). She is Associate Professor in social medicine, cultural health researcher, specialised in psychosomatic medicine and the creative arts, and co-founder of the Center for Social Sustainability (CSS), KI. She is anchored in interdisciplinary research and her books include The Cultural Health Box, Culture for your Health, Improve your Health with Music, Theatre for, by, and with patients, Culture and Public Health, Fibromyalgia – for the cause of stress?, Humanizing Health Care with music, and Embodied Compassion. She is known internationally for her implementation of cultural activities in health care systems, in school systems, and for her evaluation with video interpretation technique (VIT), combining quantitative (stress hormone analyses, heart rate variability) with qualitative research. Her research focuses on performance evaluations with musicians; music and health; music in end-of-life situations; music and social sustainability; music and public health; arts and humanities; music and learning, creative learning and flow.
Dr Naomi Norton is an Associate Lecturer in Music Education at the University of York, UK, and also a freelance musician with a varied portfolio that includes teaching, research, consultancy, and performance. The driving force behind her diverse professional activities is the belief that no-one should be denied the opportunity to progress to the level of musical proficiency that they desire. Her doctoral research at the Royal Northern College of Music focused on health promotion in instrumental and vocal music lessons from the perspective of UK teachers and her current research focuses on the effectiveness of an undergraduate optional module entitled 'Musicians' Health and Wellness' in enabling student musicians to develop health-related beliefs and behaviours that promote healthy and excellent performance in a range of musical disciplines.
Dr David Thyrén is a Senior Lecturer in Musicology at the Royal College of Music in Stockholm and a researcher at the Departments of Music Education and Music and Media Production. He is a Senior Lecturer in musicology and music history, in relation to music and medicine. He is anchored in interdisciplinary research, supervises master and candidate students, and has authored scientific articles and book chapters (Brill |Rodopi & RCM publishing house). His research focuses on music history; music and media production; music and health; music in end-of-life situations; arts and humanities; music and learning. He is currently working on the international Erasmus + project ARTHEWE.
Partners