Terra Two: Writing for off-world survival

Robert Edgar, Liesl King and Adam Smith/span>
Saturday 17 June 2017, 2.00

PM

to 4.00pm

Free admission


Booking required
Book tickets

Q/S/030, Quad South Hall,

York St John University, Lord Mayor's Walk, YO31 7EX

(map)
Wheelchair accessible
Event details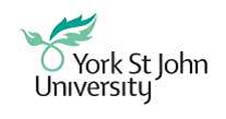 You are leaving Earth to set up the first off-world colony. What things would you take with you? This creative writing workshop asks you to debate this question by looking at stories by some of the great science fiction writers.
Join York St John University English Literature and Creative Writing staff as they introduce science fictional texts around the topic of 'things', aiming to inspire creative and critical writing projects designed to influence the first off-world colony. Topics may include artificial intelligence, apocalypse, and interstellar travel.
NASA is currently aiming to settle the first human beings on MARS by 2030. Terra Two's project designers recognise that artists have an ethical responsibility to lend their voices to this far-sighted scientific experiment. Terra Two is a digital archive which will be officially launched at York St John in September 2017, one which will collate contributions in the form of writing, music, visual images, games and podcasts.
You are invited to develop the ideas you create in the workshop for submission to York St John University's summer competition, 'Terra Two: Writing for an Off-World Colony'. Winners will receive editorial support, and will be featured on the Terra Two website in time for its launch.
About the speakers
All those involved in presenting the creative writing workshop are lecturers at York St John University.
Dr Rob Edgar is Senior Lecturer in Creative Writing. He received a doctorate for his work on the character of the Schlemiel in Jewish-American literature and cinema from the University of Hull. He has published on Screenwriting, Directing Fiction, The Language of Film, American Cinema, Science Fiction and the Music Documentary. He is currently working on a second edition of The Language of Film and an edited volume on Arena Rock and is developing a text on adaptation.
Dr Liesl King specialises in women's science fiction and fantasy. She completed her PhD at the University of London, Queen Mary. She teaches on the BA English and Media programmes, as well as on the MA in English. She has been part of the York St John University English programme since 2003.