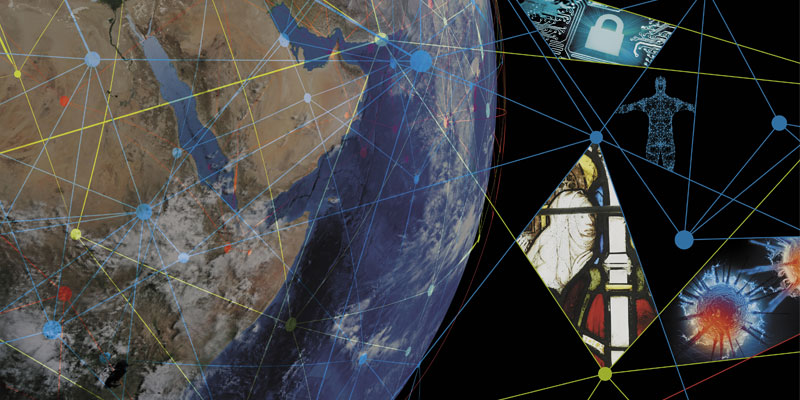 Festival showcases University of York research
Join us at York Festival of Ideas as we showcase some of the innovative research that University of York researchers are leading on. This incredible work is contributing to solving some of the world's most intractable problems, as well as helping us to understand the world we live in.
One of the world's premier institutions for inspirational and life-changing research, the University of York's work is focused around seven research themes. These align York's academic strengths to best meet the grand scientific, social and environmental challenges of our time.
From spearheading research, training and standards in the safety of robotics and autonomous systems, to creating an environmentally friendly future, to the history of radicalism in children's books, come along and find out about the life-changing research being carried out at the University of York. All our Festival events present research in an accessible and engaging way.
Creativity
Discover the wonders of technology as University of York Library, IT and Archives staff showcase the transforming and exciting opportunities offered by the digital world. Hear about different aspects of digital, from augmented reality to digital archives, take part in hands-on activities and enjoy a digitally immersive experience. Sunday 9 June
The Poetry and Music of Science
Inspired by The Poetry and Music of Science, a new book by the University of York's first Professor of Natural Philosophy, Tom McLeish, our Festival Focus Day aims to break the silence on the deep creativity and imagination required in science. Our speakers – artists, scientists, conductors and musicians – challenge the assumption that science is less creative than art and point to common territories in the creative process. Join in the discussion as we explore the interfaces between science and literature, art and astronomy, poetry, music and mathematics. Sunday 16 June
Culture and communication
Renaissance Wonders: Print and plays
The theatre and the printing press were two of the wonders of Renaissance England. Join Helen Smith of the University of York to learn more about 'wonder' in Shakespeare's The Tempest and to try your hand printing a portion of Shakespeare's play on a historic printing press. Offering three activities in one, this event includes a talk, an exhibition and the chance to print a souvenir of your visit. Wednesday 12 June
Giving Something Back: A library for Yorkshire
Find out about the Petyt Library, one of the cultural wonders of early modern Yorkshire, now housed at the University of York. Collected by Yorkshire brothers William and Sylvester Petyt, the Library contains around 2,500 important books and pamphlets. Learn how the successful London lawyers never forgot their Yorkshire roots, opening up a new world to the people of Skipton with their books. Thursday 13 June
Environmental sustainability and resilience
Have you ever wondered what happens to all the dirty water that goes down the drain? Find out as scientists take you on a guided tour of some of the University of York's state-of-the-art research facilities. Discover how water companies recover energy from wastewater during the treatment process and learn more about the trailblazing research into renewable energy being carried out at York's Department of Biology. Thursday 6 and Wednesday 12 June
Clean Air Day: Air pollution and York
Air pollution – it's all over the news and all over our cities, but what do YOU really want to know about it? Find out about air quality research at the University of York, how it relates to our beautiful city and where it impacts on our everyday lives. Quiz experts from the University and City of York Council and consider the simple things that can be done to help improve the air we breathe ahead of Clean Air Day on 20 June 2019. Thursday 13 June
Health and wellbeing
How do you decide what information to trust when you have questions about your health, mental health and well-being? This immersive exhibit explores the explosion in information from multiple sources, via social and mainstream media, through a series of short films. Against this swirling backdrop of competing and opposing views, the need for accurate, evidence-based information has never been greater. Tuesday 11 June
Learn about the wonderful world of 'marvellous microbes' with our family-friendly interactive demonstrations. Explore how microbes could stop the spread of tropical diseases and reduce our dependence on fossil fuels. Discover how York researchers are targeting specific body molecules inside the 'smelly' microbes to prevent body odour, and get to know your own microbes. Tuesday 11 June
Justice and equality
A Fair Economy. A Better World
In this age of globalisation, who is the economy for and who really benefits? How do we make sure economic theory translates into the desired outcomes? Crucially, how do we ensure the economy benefits everyone, not just the few? In partnership with the Friends Provident Foundation, our Festival Focus Day investigates the future of Economics and asks how we can create a fair and resilient economic system that benefits all. Friday 7 June
Inequality: Lessons from history
From the Stone Age to the modern day, has inequality always been inevitable? Our expert panel of archaeologists and sociologists discuss what lessons can be learnt from the history of social inequality. Join them to discover what inequality has meant over the centuries, and how it has been maintained by the elite and challenged by other social groups. Presented by the AHRC funded Counter Culture project. Monday 10 June
Risk, evidence and decision making
Rare metals, with such exotic names as praseodymium, neodymium or promethium, are chemical elements present in very weak concentration in the Earth's crust. They display fascinating magnetic properties and are extensively used in digital and so-called green technologies. Join Alice Courvoisier of the University of York and prepare to marvel at what these elements can do – and to face the darker side of the digital revolution. Friday 7 June
Artificial Intelligence: Looking to the future
Discover what the future may hold at our Artificial Intelligence (AI) Focus Day. From driverless cars to robotic health carers, where is AI taking us? What benefits will AI bring to our lives and what concerns should we have? Join us for informative discussions, hands-on activities and an opportunity to see driverless cars in action. Sunday 9 June
Technologies for the future
Creating an Environmentally Friendly Future
Join us for a fun, hands-on exhibition and learn how scientists are working to create an environmentally friendly future. Venture inside the Sundome to find out how the Sun works and discover how York researchers are trying to create fusion energy – mini-suns here on Earth – to power our world. Have a go at making bio-plastics from potatoes and experiment with different ways of cleaning up oil spills. Monday 3 June
Fun with Artificial Intelligence
Explore robots and AI technologies in this hands-on exhibition: Meet and talk to the robot Pepper; have a go at programming your own Lego Mindstorm robot; find out how AI works through an interactive game; and watch the latest technology park a car without anyone at the wheel. Sunday 9 June
Other events featuring York researchers or students, or brought to you by University of York staff, include:
Explore! Tuesday 28 May
Discovery Zone Friday 31 May and Saturday 1 June
Celebrating 150 years of the Periodic Table Monday 3 June
Exhibition: 150 years of the Periodic Table Throughout the festival
Weight of Light Throughout the festival
Puzzles in the Pub Tuesday 4 June
Persian and Urdu Divination Manuscripts Tuesday 4 June
The Magic of Numbers Wednesday 5 June
Showcasing Innovation Wednesday 5 June
The Joy of Work Wednesday 5 June
Wonders of the Night Sky Wednesday 5 June
Activism in Wonderland: Radical children's books Wednesday 5 June
Brahms: University Chamber Choir Wednesday 5 June
Beer and Ballads Wednesday 5 June
Margaret Cavendish and the Royal Society Wednesday 5 June
Mamluk Fashion Trends in Egypt and Syria Thursday 6 June
The Wonders of British Sign Language Thursday 6 June
The Nylon Racket Thursday 6 June
How Do We Dispose of Mass Murderers? Thursday 6 June
The Roman Inquisition and Learned Magic Friday 7 June
Just Don't Do It Friday 7 June
Writing Wonders Friday 7 June
Words as Bullets Friday 7, Saturday 8 and Sunday 9 June
Platform Summer Theatre Production Friday 7, Saturday 8 and Sunday 9 June
The Chimera Ensemble Friday 7 June
Festival Fringe Family Fun Afternoon Saturday 8 June
What Have Universities Ever Done For Us? Saturday 8 June
Soapbox Science Saturday 8 June
Write What You Wonder Saturday 8 June
The Business of Professional Football Saturday 8 June
Behind the Scenes of Poldark Saturday 8 June
The Wonderful World of Kamishibai Sunday 9 June
Medieval Magic Sunday 9 June
Toleration: An outdated concept? Sunday 9 June
Peterloo: Mike Leigh in conversation Sunday 9 June
Archaeological Encounters with the Cold War Monday 10 June
Ivan Bilibin: Visualising fairy tales Monday 10 June
Zombies in York Monday 10 and Tuesday 11 June
I Wonder If… Tuesday 11 June
Tipu Sultan and the Arts of the Book Tuesday 11 June
Shakespeare's Rivals Tuesday 11 June
Beer and Beowulf: Natural wonders Tuesday 11 June
Edvard Munch: The brighter years Wednesday 12 June
A Thousand Years of York Museum Gardens Wednesday 12 June
The Sir Jack Lyons Concert Wednesday 12 June
The American Environment Thursday 13 June
The Wonder of Trees Thursday 13 June
Vikings: An artefact's view Thursday 13 June
Seeing Sound Thursday 13 June
Chronicity Thursday 13 June
All These Worlds Thursday 13 June
Ignorance and Failure: The success of science Friday 14 June
Interactive Media Showcase Friday 14, Saturday 15 and Sunday 16 June
Festival Film Screening: Quantum Shorts Friday 14 June
LUMA Film Festival Friday 14, Saturday 15 and Sunday 16 June
Holst's The Planets Friday 14 June
Lyric Secrets of the Beatles' Let It Be Album Friday 14 June
Guess Who's Coming for Dinner? Saturday 15 June
Adventures into the Unknown Saturday 15 June
Archaeology: Wonderful rubbish Saturday 15 June
American Standard: A reading by Paul Muldoon Saturday 15 June
Mission to the Moon Sunday 16 June
Verdi and Puccini: Grand choral music Wednesday 19 June